For a long time, handmade leather wallets crafted from the finest materials by skillful craftsmen have been sought after because of their durability, beauty and elegance.
Show more »
Let's find out why you should own a full grain leather wallet and what types of leather material are commonly used for wallet in the article below.
What are handmade leather wallets?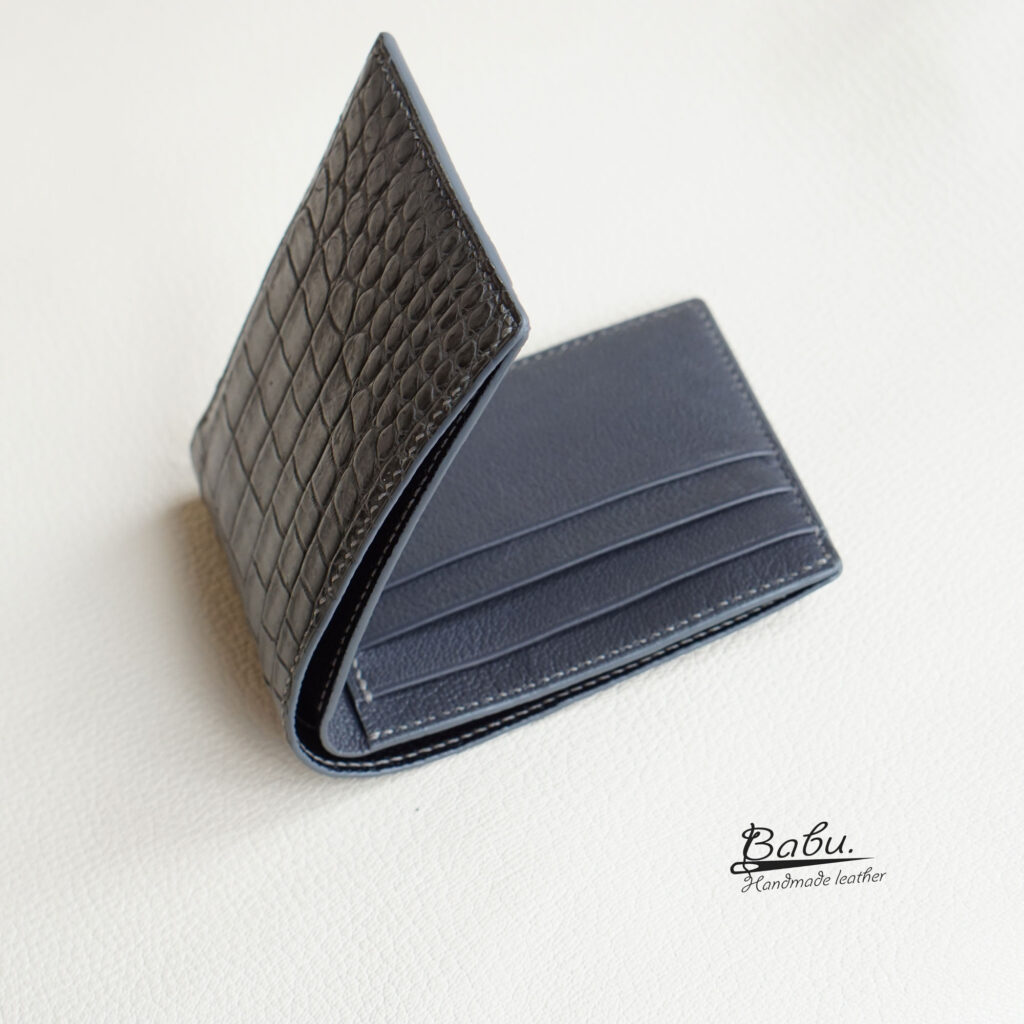 Handmade leather wallets are sought after because they are good quality and aesthetically pleasing. They are wallets made from exotic leather, undergoing meticulous processing, cutting, punching, grafting, etc. Custom handmade leather wallets are completely crafted by hand without using industrial machinery, giving customers the most unique products with premier quality.
Mens handmade leather wallets is high-class wallets made from exotic leather, completely handmade for all stages
Leather wallet is handmade with creative and unique designs. Because each piece of leather has its own patterns, no two wallets can be the same.
Leather wallets on the market today are only sewn with thin thread, so after using them for a while, the thread can break. However, handmade leather wallets are meticulously processed with thick seams wrapped around them, helping to protect the leather from being affected by external factors.
What leather materials are commonly used for handmade leather wallets?
Currently on the market there are many models of handmade leather wallets with diverse designs and materials. Most of them are made from cow skin, crocodile skin, sheep skin, python skin, horse skin, etc. Let's find out with Babu Handmade characteristics of each leather material.
Handmade cowhide wallets
Handcrafted from real cowhide, with an inner lining for higher durability, cowhide wallets have the advantage that the longer you use it, the softer, glossier and naturally darker the skin becomes. A handmade cowhide leather wallet can last up to 7-10 years.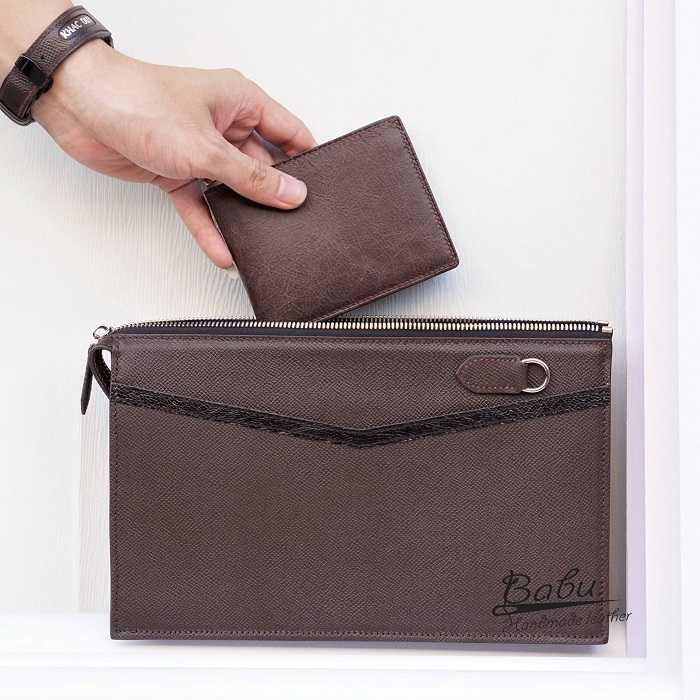 Babu Handmade's cowhide is highly appreciated by customers for both aesthetics and quality
Cowhide wallets are highly appreciated by customers in terms of aesthetics and relatively smooth leather surface. The abundance of materials, sewing methods, and designs has created products that fascinate leather lovers. Youthfulness, elegance and luxury are all gathered in a handmade cowhide leather wallet.
Handmade alligator wallet
An Alligator leather wallet is not only appreciated for their durability but is also favored by top aesthetics. Using a genuine alligator wallet can obviously reinforce one man's strongest power as well as personality. The prominent and sharp scalloped textures on the leather surface make the products made from alligator unique. The ridges of each alligator are not overlapping, which creates diversity and uniqueness for products.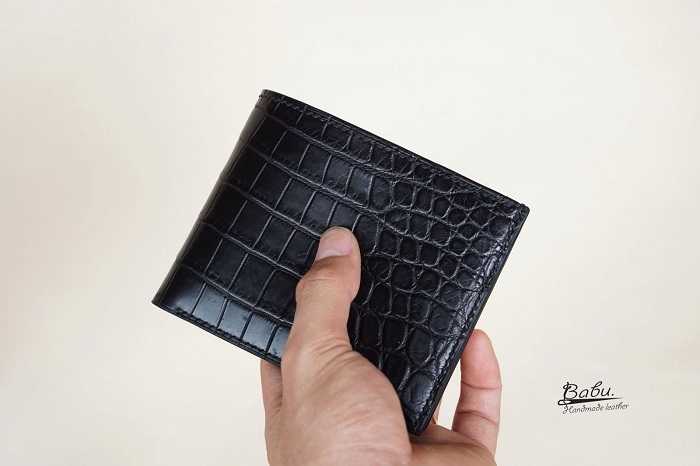 Alligator wallet attracts customers thanks to its unique appearance, eye-catching and strong personality
Handmade sheep leather wallets
Sheepskin is soft, smooth and easy to tan, so it is often used to make fashion products, especially custom handmade leather wallets. Sheep leather has a smooth and silky surface but very high toughness. The pores of the sheepskin are evenly distributed throughout the surface of the leather, giving a sheep leather wallet its distinctive character.
Thanks to the small pores, sheepskin is very easy to dye, creating different colors and styles. So leather lovers can freely choose their favorite sheepskin wallets from a variety of colors.
Handmade ostrich leather wallet
Ostrich leather wallet is also a high-end wallet line that is highly appreciated in the market. The biggest difference of ostrich skin is the different skin surface of the ostrich. The skin of the ostrich body is characterized by the bumps of the quill follicle. The portion with these bumps is called the "crown".  During the process of tanning and dyeing, the spots become slightly darker than the flat skin, which creates the beauty and uniqueness of ostrich skin.
Besides the Ostrich wallet, the Ostrich leg leather wallet also receives a lot of love thanks to strange and unique textures.
In addition, the handmade ostrich wallet and ostrich leg leather wallet also attracts users by its durability. Ostrich leather is a strong, supple and super-elastic leather that brings comfortability to the users.
Ostrich also contains a natural oil so the longer it is used, the more shiny it is. This natural oil also prevents it from drying out and cracking during using Ostrich leather wallet .
Handmade python skin wallet or python leather wallets
The python skin wallet attracts users thanks to its symmetrical textures and scales arranged as a tile roof. Python skin is also appreciated for its softness and high ductility. As a result, python skin wallets made from python skin are always soft and smooth, rarely scratched.
Python skin is thin but not weak. If properly maintained and used, a python skin wallet can be used for 2-4 years.
Handmade lizard leather wallets
Lizard wallet is also one of the high-end wallet lines, but it is somewhat less popular than other types of leather. Each lizard leather wallet product has its own unique beauty that is not duplicated. Because it is very rare to have 2 lizards with identical patterns.
Lizard leather is highly breathable, and the more you use it, the more naturally glossier it will be. The low calcium content in lizard skin makes the skin soft, not hard like alligator skin. In addition, lizard skin also has the advantage of being easy to bleach, easy to dye, creating a variety of products for consumers to choose.
Babu handmade – Premier quality handmade leather wallet provider
Babu Handmade is proud to be the reputable place where thousands of customers have trusted to purchase their handmade leather wallets. Each of our handmade leather goods is crafted by master craftsmen, following the highest standards. Our enthusiasm is shown through each meticulous hand-sewn needle and thread. Babu commits that our leather wallet will satisfy the most difficult customers.
Each piece of leather is carefully selected and imported by Babu Handmade from Italy, France, South Africa, Spain. Customers can go to the store to choose the leather piece to make their wallet.
Handmade leather wallets handcrafted by Babu are trusted by thousands of customers
Moreover, Babu offers free name and logo engraving at the request of customers. We believe that custom handmade leather wallets with individual imprints will be a meaningful gift keeping memorable moments for our dear customers.
The durability of Babu Handmade leather wallet?
Babu's leather wallet is made from carefully selected full grain leather material, so it is highly durable. If you follow our maintenance instructions, the more you use your wallet, the more beautiful it will be, and your wallet's life expectancy can be up to decades.
Does Babu deliver all over the world?
Currently, Babu Handmade has stores in Hanoi, Vietnam. Customers can visit Babu's store to try and choose for themselves the best handmade leather wallet. If you are in another country, Babu will support you to deliver all over the world.
Babu always strives to give customers the best shopping experience possible. You will receive the product only after 15-30 days (excluding Sunday and holidays) since your payment and order is successfully processed
Babu Handmade's warranty and after-sales policy
Handmade leather wallets at Babu are warranted for 2 years. We warrant all product defects, including defects caused by users.
In addition, Babu Handmade offers lifetime product maintenance. Customers can sent your leather wallet to Babu so that our craftsmen can help you maintain and increase their life expectancy.
« Show less