18 Lug Width/Buckle Widths

3 Lengths

8 Buckle Types
Handmade ostrich bands also called ostrich watch strap is favored by many people because of its durability, uniqueness and elegant beauty.

Show more »
Which ostrich watch straps are the most popular today? Let's find out top 5 best ostrich straps in the article below..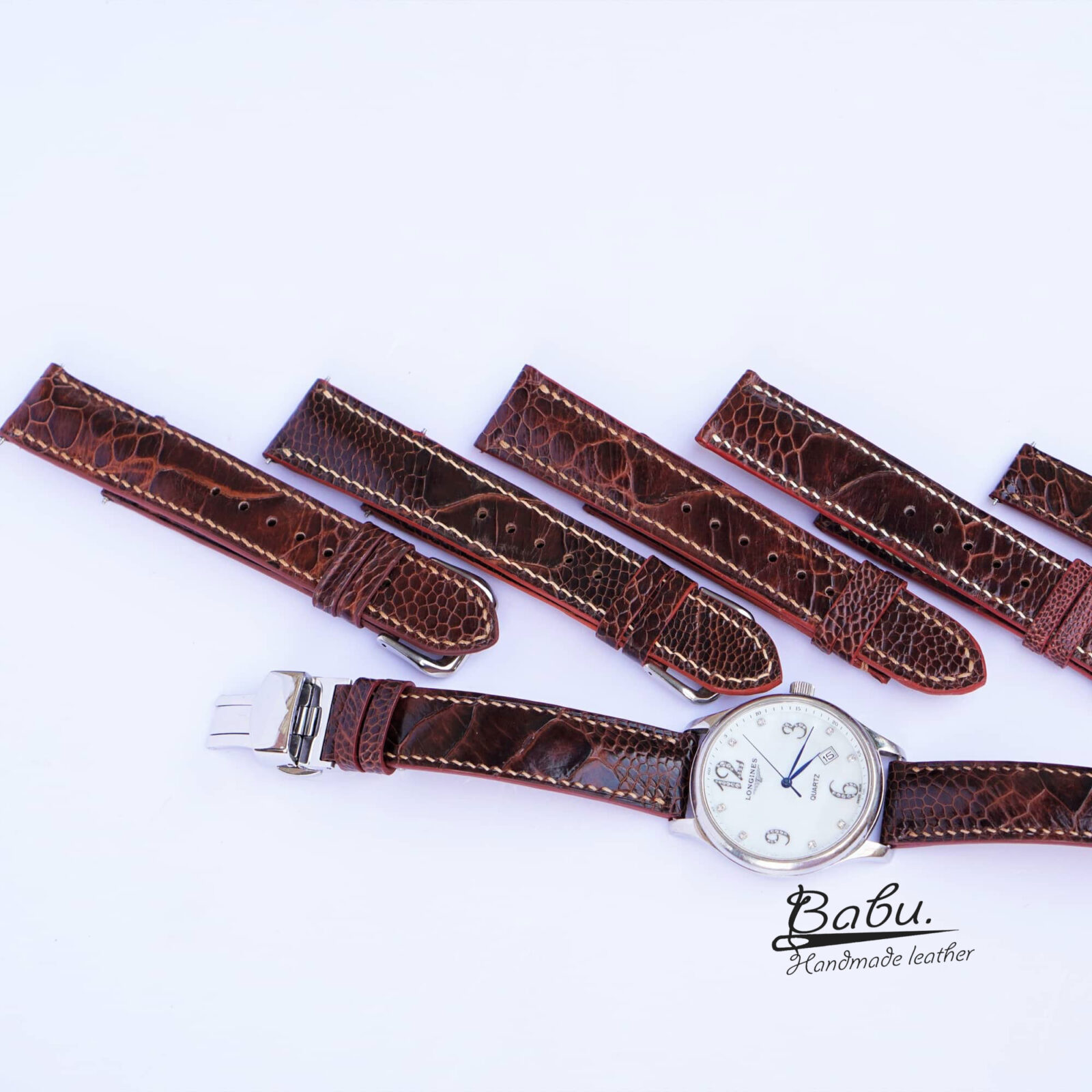 If you are a fan of leather also leather strap, undoubtedly you will be no stranger to ostrich leather watch strap and ostrich leg watch strap which are made from full grain ostrich leather and ostrich leg leather.
Ostrich leather, after being carefully processed, will undergo cutting, punching, tanning, etc. This process ensures that the surface of the leather strap is always naturally beautiful and difficult to fade when constantly used. The leather lining is also fixed with firm hand-sewn stitches.
Ostrich bands, including ostrich leg watch strap, is one of the favorite products of the upper class. This ostrich watch strap material possesses outstanding advantages that create its own attraction
Durable:

Many people like ostrich leather watch strap and ostrich leg watch strap because of their durability, as well as the fact that the leather is so soft. Ostrich leather also breathes very well and contains natural oils that help it resist cracking or drying. Pigmented leather is the most durable with a consistent surface appearance, while aniline leather is more natural looking, but less resistant to soiling. The third type, semi-aniline leather, is somewhere between on both counts. Among real leathers, full grain leather is by far the best in terms of quality. Unlike the other grains, full grain has not been separated from the top grain or split layers, and is therefore the strongest and most dependable type of leather.

Comfortable to wear:

Ostrich leather is  famous not only  because of its durability but also its feeling. It has come out as the most comfortable boot leather due to its softness. Moreover, one of the most notable features of this leather is its breathability

Unique and beautiful:

Ostrich skin and ostrich leg leather also have multifaceted and non-overlapping skin texture, making fashionable products. Moreover, the leather can be dyed in hundreds of shades and given several different finishes. Dying ostrich leather is not an exact science, since each skin will react differently to dye.
Top 5 best handmade ostrich watch band 
Navy blue ostrich watch strap SW167 from leg leather
Navy blue ostrich watch strap SW167 from ostrich leg leather is one of the best selling leather watch straps at Babu Handmade. The skin on the ostrich leg is characterized by a layered scaly structure. The scales are shiny and relatively hard, with gaps between the scales, so it is extremely durable. The surface of the leather strap is naturally glossy, highlighting the elegance and personality of the wearer.
The inside of the leather strap is lined with French Zermatt leather that not only adds softness and durability to the watch strap but also handles sweaty hands well. The lining is fixed with meticulous and solid hand-sewn stitches.
The navy blue color of the leather strap makes it easy to combine with a variety of outfits in many different styles. Navy blue is also suitable for most skin tones, helping to flatter your skin. When putting it on, you will feel the sophistication and elegance that it brings immediately.
Black ostrich watch band SW035 from leg leather 
Black ostrich watch band SW035 is also a product chosen by many customers. Products made from carefully selected leg skin with scaly patterns, which gives a special and new look to the watch strap.
In feng shui, black associated with money, strength and power, so this black leather strap helps the wearer express a strong, mysterious personality and luxurious style.
Brown Ostrich Leather Watch Band SW046
The Brown Ostrich leather watch strap SW046 model brings beauty and durability over time. The strap has a unique pattern and is meticulously and firmly hand-stitched.
The brown color of the ostrich watch band gives its user not only a matured and stable image, but also a delicate and luxurious appearance. This color is also easy to combine with a variety of outfits and styles.
Navy blue ostrich leather watch band SW049
Bringing freshness in style, the navy blue ostrich watch strap SW049 is also loved by many customers. Not only bringing the beauty of the ocean, this model also brings a liberal and youthful beauty.
Navy blue also enhances your watch face. When paired with the watch face, it will increase the class and elegance for its wearer
Brown ostrich leg watch strap SW195
In terms of the ostrich watch strap, it is impossible not to mention the model SW195 of ostrich leg watch strap. The leather strap is made of ostrich leg leather material with unique leather textures, which is very suitable for those who have a bold personality and want to stand out. Although the leather strap is made from the leg skin, when wearing it, you will not feel uncomfortable but very soft and comfortable.
You can combine this ostrich watch band with elegant suits or even shorts and short-sleeved t-shirts.
Babu Handmade – Premier quality leather strap and ostrich watch band provider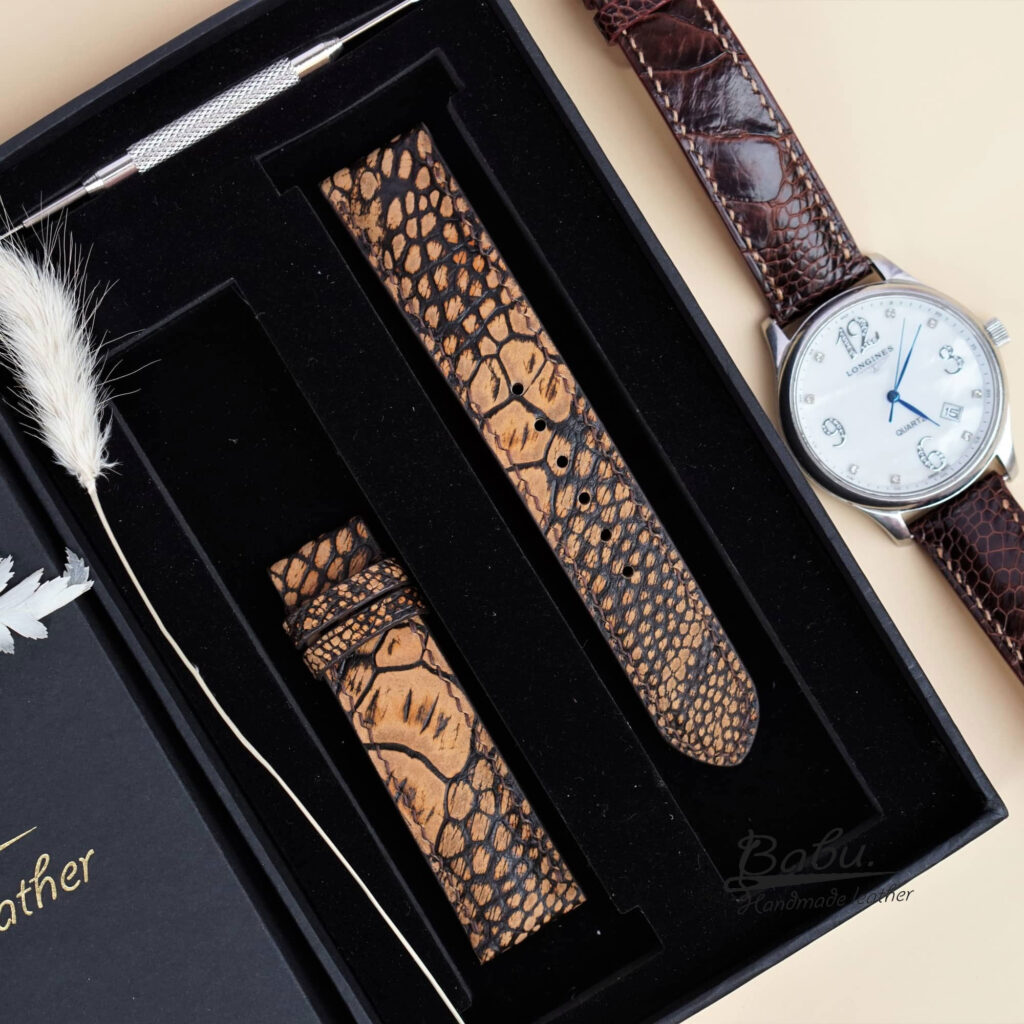 Babu provides high quality full grain leather watch strap with diverse designs
All of our handmade leather watch straps are made from full grain leather 100% imported from South Africa. As you may know, full grain leather is the leather with the highest quality available nowadays. In full grain leather, all of the inherent features of the leather, imperfections and all, are evident. A full grain leather watch strap will last longer and resist wearing out better than any other type of leather. Three features separate full grain from other leathers: strength, uniqueness, and graceful aging.
Strength: Full grain is cut from the strongest layer of the animal's skin. The grain and the fibers at the surface are so tight that it resists moisture and remains breathable after prolonged contact.
Uniqueness: Full grain is also the most unique of the leather types. It is dressed in raw features that tell a story: from its scars and bug bites to its century old branding. Rather than sanding them away like most types of leather, full grain is left in its most natural state.
Aging: In addition to being the most durable leather, full grain ages gracefully, creating what is known as patina. Patina is a fancy word for when the natural oils from your hands and the outdoor elements absorb over time, creating various tones and a smooth sheen to the finish of the leather. It's kind of like when you break in your favorite pair of jeans or boots; patina tells the story of where you've been and how much you love the product.
Moreover, handmade leather watch straps are the first choice when users want to refresh their watch appearance. Ostrich leather watch straps at Babu are handmade, without the use of machines, ensuring meticulousness and sharpness in every smallest detail. The aesthetics and durability of handmade straps are always appreciated by users. Moreover, their unique beauty  is different from those of mass-produced bands, which will help add value to your watchs.
Ostrich bands in Babu have affordable prices and many attractive promotions
Babu also has many promotions and sale-off events on holidays. Moreover, our loyal customers who have purchased 3 times or above also receive a discount voucher for their next purchases.
Babu Handmade's warranty and maintenance policy 
Babu offers many attractive warranty policies for our dear customers. Handmade watch straps at Babu are warranted for 1 year and serviced for life. Customers can send the strap to Babu to increase the life expectancy of the product. Babu warrants all product defects, including user errors.
How to purchase Babu's product?
Currently, Babu Handmade has the store in Hanoi, Vietnam. Customers can visit Babu's store or website to choose for yourself the best handmade leather watch straps or custom watch bands. If you are in another country, Babu will support you to deliver all over the world.
Babu always strives to give customers the best shopping experience possible. You will receive the product only after 15-25 days (excluding Sunday and holidays) since your payment and order is successfully processed.
Above are the top 5 most popular handmade ostrich watch straps at Babu Handmade. If you are looking to own beautiful and quality ostrich watch band, do not hesitate to contact Babu Handmade for a free consultation.
« Show less