2 Colors

22 Lug Width/Buckle Widths

3 Lengths

8 Buckle Types
Handmade alligator watch bands are favored by many people because of their durability and aesthetic. What are the most popular alligator leather watch straps? While you're waiting, here's our list of the best alligator watch bands to buy.
What are handmade alligator watch bands?
Handmade alligator watch bands are watch straps handcrafted from real alligator skin…
Show more »
The craftsman carefully selects each piece of leather, then cut, measure, sew, etc. totally by hand. Therefore, handmade leather strap in general always possess a uniqueness that is rarely duplicated
Alligator leather watch strap has an outer surface made from natural alligator skin, undergoing the process of tanning. Therefore, the strap surface is always naturally glossy and aesthetically pleasing. The back of the strap is made from high-grade leather lining, firmly and meticulously sewn by hand.
Are alligator watch bands durable?
Whether a handmade alligator leather watch strap is durable is a question of many people when choosing a watch strap. Alligator skin is considered thin, but very tough and has high elasticity, difficult to crack when you bend or fold it. This leather does not have static electricity and provides excellent heat insulation.
Alligators are animals that can live both on land and in water. Therefore, alligator watch bands are less affected by external factors such as temperature and humidity. An alligator leather watch strap can last up to 5-10 years if you know how to take good care of it during use.
Babu's best selling alligator watch strap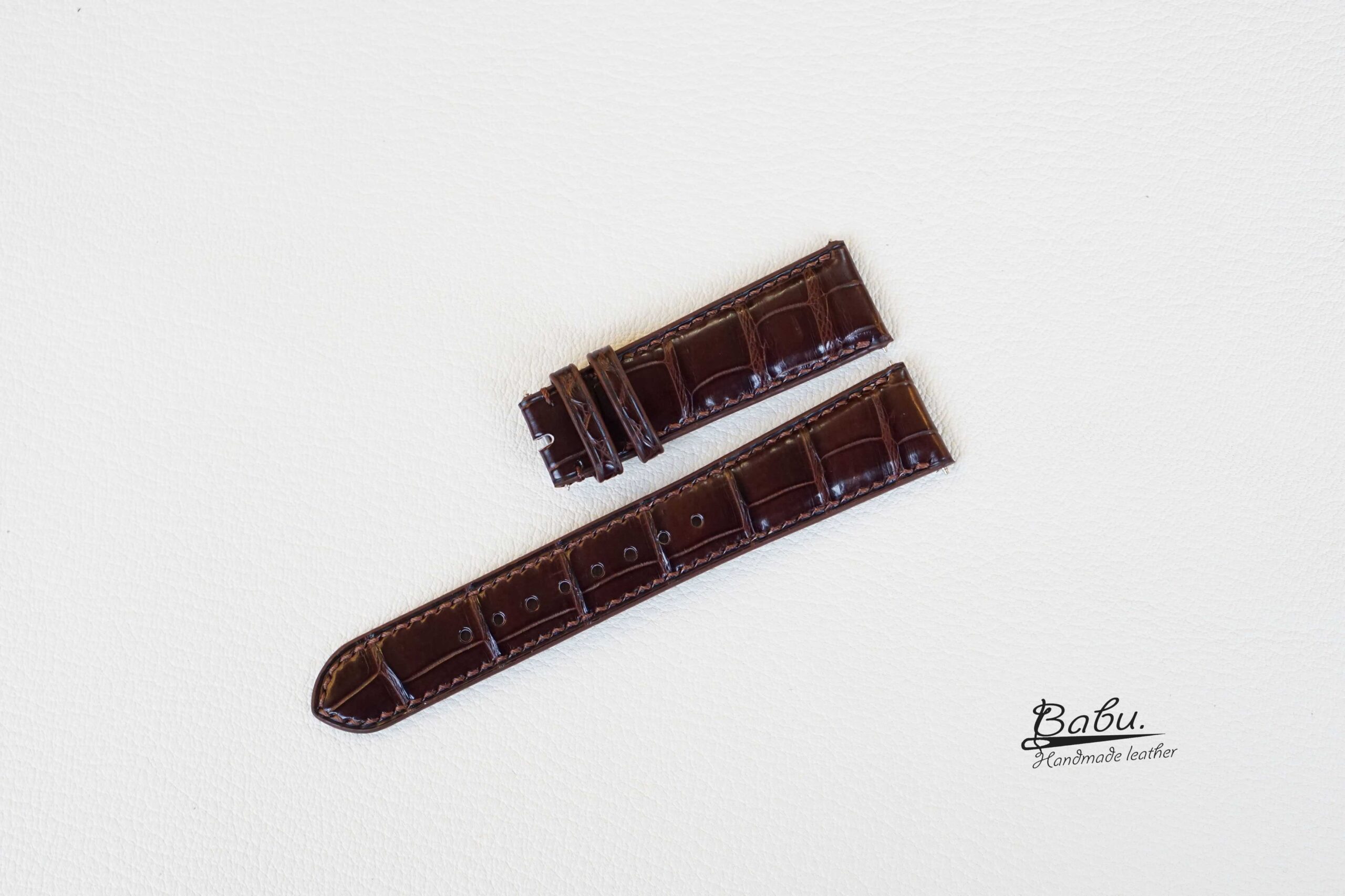 Handmade brown alligator leather watch strap SW218
The leather strap is made from imported alligator belly skin. It is the finest skin area because it is thin but very soft and comfortable to wear.
The back of the band is lined with French Zermatt leather with a 0.45mm diameter round thread. All create an alligator watch strap that is not only luxurious, beautiful but also durable.
The chocolate color of the watch strap is also quite luxurious and eye-catching. You can easily match it with any type of clothes and in any style you want.
The watch strap is equipped with a stainless steel needle buckle. As a result, it helps prevent damage to the leather strap, avoiding breaking the strap due to bending to pierce the needle. In addition, you can easily adjust the width of the watch strap thanks to the pre-punched holes and change the needle clasp to a butterfly clasp if you like.
Handmade black alligator watch strap SW192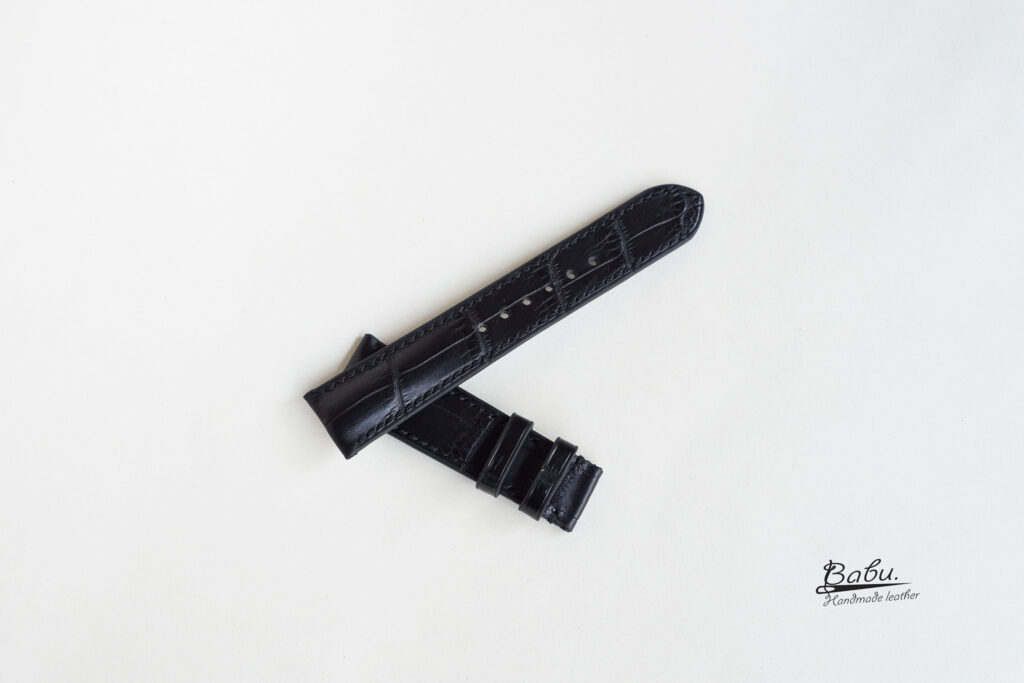 Another model that Babu would like to introduce to you is the SW192 alligator watch strap. The leather strap is black, highlighting the alligator skin texture, increasing the elegance and class for the wearer. In feng shui, black associated with money, strength and power, so this black leather watch band helps the wearer express a strong, mysterious personality and luxurious style.
This black leather watch band model is also made from alligator belly skin and lining from imported Alran Sully leather. When you wear it, you will feel the smoothness of the strap. The watch hand buckle protects the watch strap and keeps it from being damaged during use. You can replace it with a watch butterfly buckle easily.
Handmade dark green alligator watch strap SW133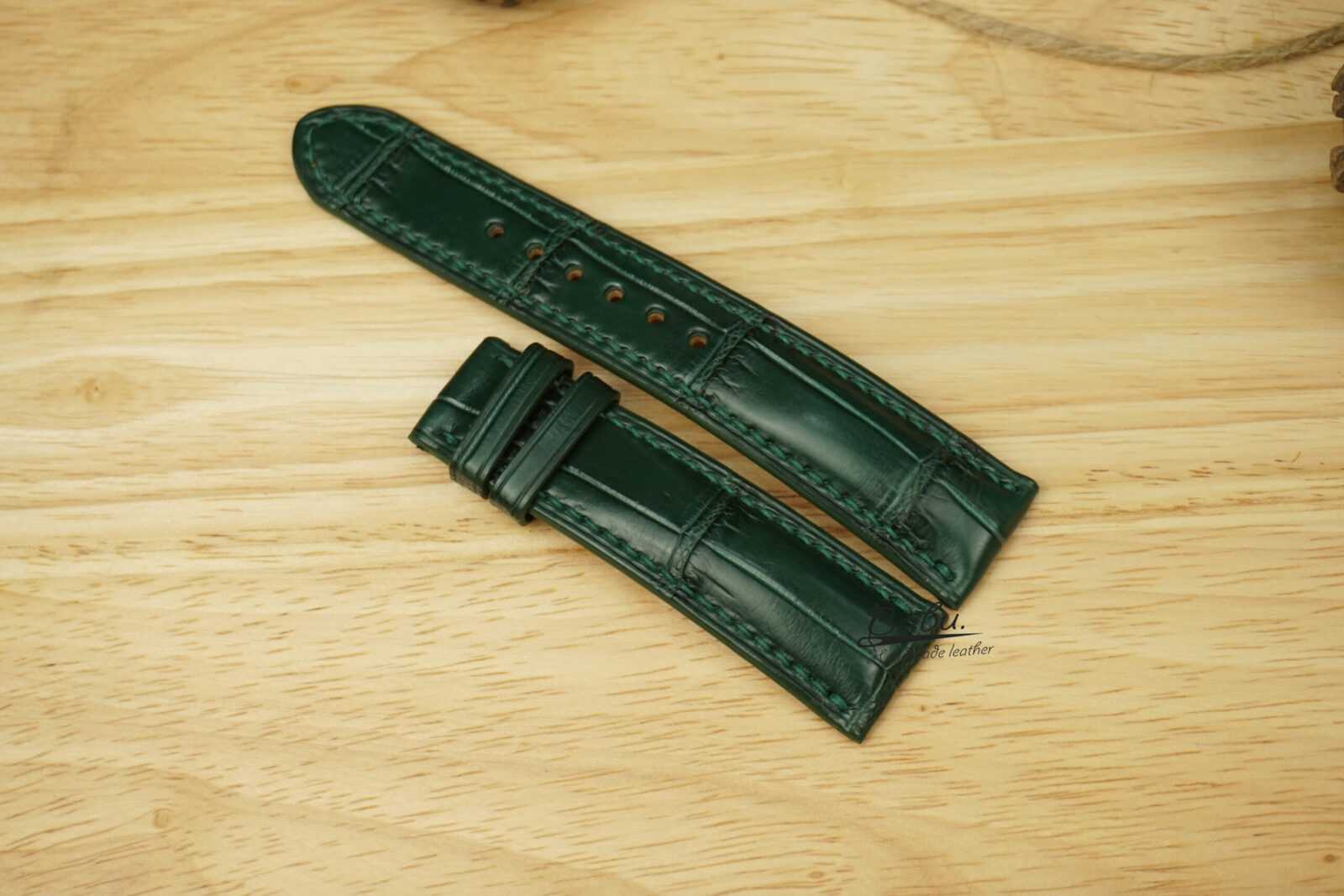 Regardings the alligator watch bands at Babu, it is impossible not to mention the alligator watch strap SW133. The watch strap is crafted with the top being full grain alligator skin, the lining is made from Zermatt leather to create a smooth and comfortable feeling when worn.
The dark green color of the leather strap, though not colorful and bold, brings a mature and calm appearance. This blue color is suitable for both young people and adults, easy to coordinate with different styles.
How to take care of alligator watch bands
Alligator watch bands are very durable, difficult to scratch or break. However, you still need to take good care of the strap to keep it in the best condition. You can follow our below instructions:
The biggest enemy of natural leather is sunlight and water. For you to protect your alligator watch strap as you can, be careful to avoid contact with sunlight, humidity or water.

Do not bend or fold the leather strap too hard

When the watch strap is dirty, do not use strong detergents to clean it. You can use an eraser to gently scrub the dirty spot. Or you can clean the strap with a low detergent soap or Baking Soda powder.

It's best to keep your alligator watch bands in a cool, dry place when not being used, and covered in a clean box or dust bag to prevent dust settlement.
Prestigious address to buy premier quality alligator watch strap
One of the most important factors to own a high quality alligator leather watch strap is choosing a reputable leather strap provider address. This not only gives you peace of mind about the quality, but also helps ensure the technical and aesthetic of the watch.
Babu Handmade is an address specializing in the production of high-quality handmade leather watch straps. We always satisfy our customers because:
The leather watch straps at Babu are meticulously designed and crafted, made entirely by hand, with carefully selected and imported full grain alligator leather from Italy, France, South Africa, Spain so every watch strap is unique, not duplicated.

Babu Handmade always updates domestic and international fashion trends, so our customers can rest assured that they are wearing the latest and most fashionable watches.

In particular, Babu Handmade also accepts engraving names and images according to customers' requirements on leather watch straps.
Babu Handmade's warranty and after-sales policy
Babu Handmade offers many attractive warranty policies for our dear customers. Handmade leather watstraps at Babu are warranted for 1 year and serviced for life. Customers can bring the watch strap to Babu to increase the life expectancy of the product. Babu warrants all product defects, including user errors.
Above are the most popular handmade alligator leather watch straps at Babu Handmade. If you are looking to own beautiful and quality alligator watch bands, do not hesitate to contact Babu Handmade for a free consultation.
« Show less