How to mix and match your blue leather alligator watch strap with your outfit in every occasion?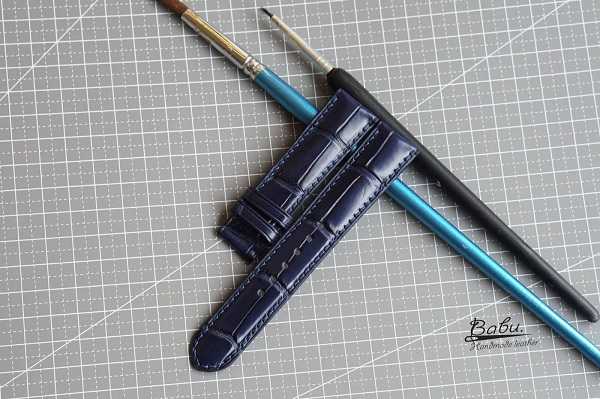 Most guys have a couple of rings as their jewelry. Which means an appropriate watch will daring their personality. Wearing a watch not solely to inform the time, however additionally to form a fashion statement and a personal style statement, too. If you are in love with a blue leather alligator watch strap. In this text, we specialize in providing essential rules of combination your watch with your dress in general. And how to mix and match your blue alligator watch strap with your dress in particular. But, first of all, let's find out the reason why blue is so popular for luxury watches?
Why do we choose blue leather watch bands to write about?
Blue has become popular not only recently but also for a few decades ago. Blue is a classic color and very nice when mixed and matched with black and white. In other words, it stands out without being over the top. Traditionally, blue expresses security, calm and fortitude. In many countries or in some famous watches bands in the world, blue is not solely just a color, but also a trend of the fashion reason.
Another reason is because blue leather watch bands are easy to match with various kinds of watches. For example, if you have an analog or hybrid watch and want them to be your watch to go to your formal event. Everything you need is to be replaced by a blue leather watch strap. As we talked about, blue is always the color of luxury and elegance.
The last reason is that, the blue leather watch band can mix with your office outfit easily. No matter if your wardrobe has a vest, suite, jacket or shirt, they just need to be official enough. Your blue alligator watch band will make them a perfect combination.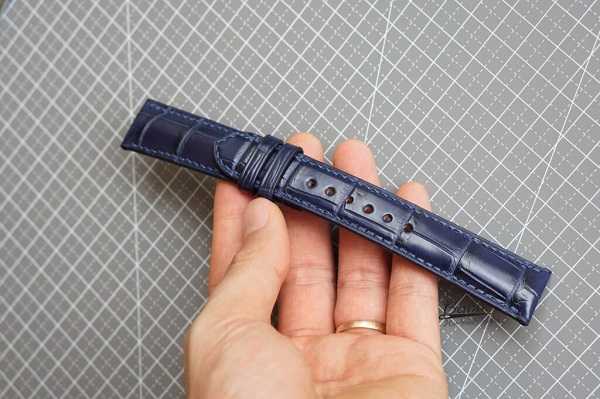 How can we mix a blue leather watch strap with your outfit?
There are a variety of events that you simply will be part of everyday which make you have to think about what to wear to be the most comfortable as well as appropriate. The way you'd pick a watch to wear to that charity gala dinner is different to the way you decide on a watch for the business lunch.Follow to the general rules, the more formal the event is, the less complex you'll want your watch to be. 
In matching your watch with your outfit, stick in your mind that the watch strap you wear has to match the dress code as well. For example, With formal attire, a leather watch strap is more suitable than watches with a metal band. Still, the blue leather alligator watch strap is considered more elegant than brown leather.
Other pieces of accessories that you are wearing should also be considered. If you are in dark brown shoes, blue tie, wearing an olive suit vest, a blue leather watch strap would make you perfect.
Within the text below, we suggest some very nice ways if you have a blue alligator watch strap with your outfit.
In the business/ casual event:
General rules: Glossy and thin blue leather alligator watch straps are best for formal occasions, and worn-in leather or rubber straps are more suited to leisurely occasions.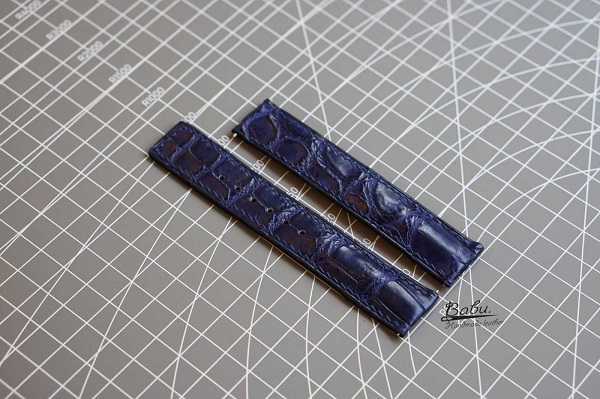 A combination of an olive suit vest, a combination of dark brown shoes, a blue tie and then adding a blue leather watch strap is the first thing that we tend to advocate to you. You are gentlemen enough and also comfortable enough to express yourself in every business or formal event.
The second set that we advise that you should have in your wardrobe. Pairing a navy sport coat with a blue leather alligator watch strap to form an additional fashion. A blue and white stripy tie with the brown leather oxford shoes and the brown kaki pant with make your outfit become more formal but it is still casualess.
And then, move to the third means. I assume that you will definitely fall in love with a man in a navy waistcoat combined with a blue leather watch band. The whole attire comes along splendidly once you add a combination of black shoes. You also add a light blue bow on your right waistcoat to be more elegant.
Or if you are a man who appreciates casual designs. A charcoal plaid blazer and a blue leather watch band paired together are a sartorial dream.
In some cases, the weather treats you with the chilly wind and cool weather. You need a sweat and a jacket to keep warm to yourself but also have to be very formal to your business. We also offer their way below.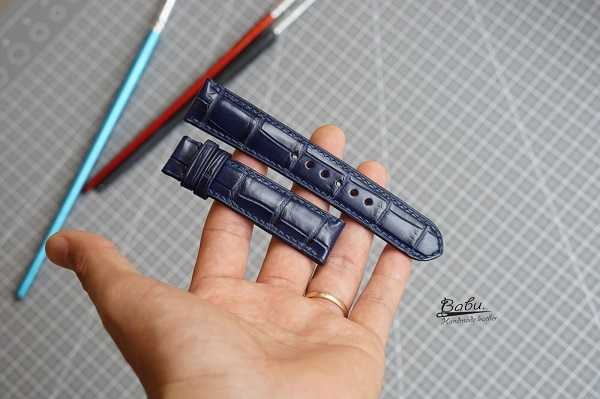 First, let's strive pairing a gray plaid wool blazer with a blue leather watch band. To feature some additional fanciness to this look, introduce brown suede oxford shoes to the combo.
Or another option, a brown cloth overcoat and a blue leather alligator watch strap  are a nice outfit to add to your casual routine. If you are feeling like dressing up, introduce a pair of burgundy leather derby shoes to your outfit.
Beside that, navy suede shirt jackets and a blue leather watch strap create the proper base for an endless range of outfits. And if you would like to instantly elevate this ensemble with a pair of shoes, add brown suede brogues to the combo.
If you would like one thing casual, think about wearing a brown wool blazer and a blue alligator watch band. To make this set more perfect, we suggest amping up this ensemble with footwear, brown suede desert boots to the equation.
One another way, a combo of an olive wool shirt jacket and a blue leather watch will create a modern casual style for you. And it will be a mistake if you miss with a pair of brown leather derby shoes for your outfit.
This city casual combo of a navy overcoat and a blue leather watch band which is very simple to throw along while not an afterthought, helping you look awesome and ready for anything without defraying an excessive amount of time and money exploring through your closet.
In the sport/ casual event: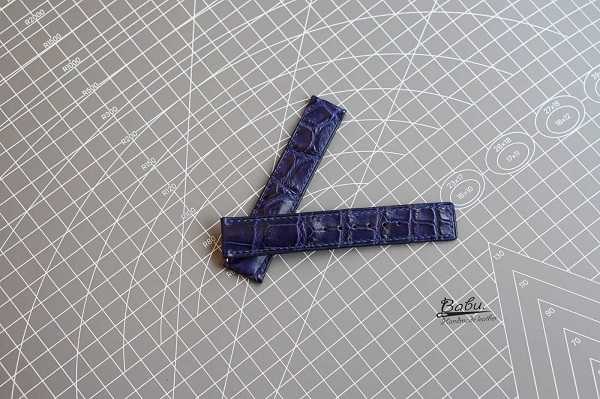 If you're seeking for a modern, casual and keep up with the current trend. A combination of a navy jacket and an Alligator leather watch strap are the things that you should not miss. We also highly recommend brown suede casual boots that can breathe a dose of polish into an otherwise utilitarian ensemble. You will look so wild and elegant at the party night with friends.
As the same way of matching your dress above. A pair of brown suede casual boots will be mixed with a beige cardigan and a Blue leather alligator watch strap for relaxed dressing with an edgy finish.
Sporting white low top sneakers combine with a black floral short sleeve shirt and a blue leather. You also can apply a red print short sleeve shirt and a Blue leather watch strap that are awesome when paired together in a street style ensemble. A pair of beige suede chelsea boots to this outfit
With the busy gentlemen and don't really have too much time preparing clothes for work. We suggest a combo of a black blazer and a Blue leather alligator watch strap which will be a real lifesaver. And try a pair of black and white athletic shoes to this outfit. That is enough to attract all looks.
Wearing your watch as an accessory to your outfit can be daring, challenging and fun. After all, the watch you own has to be the one you like. So, be clever in coordinating them not only with your outfit, but also with the activity you will be participating in. And if you are also keen on a blue leather watch strap, don't miss those tips that Bambu handmade provided above. We also offer you some kind of model of blue leather alligator watch strap. You can visit here.