GENERAL KNOWLEDGE ON LEATHER WATCH STRAPS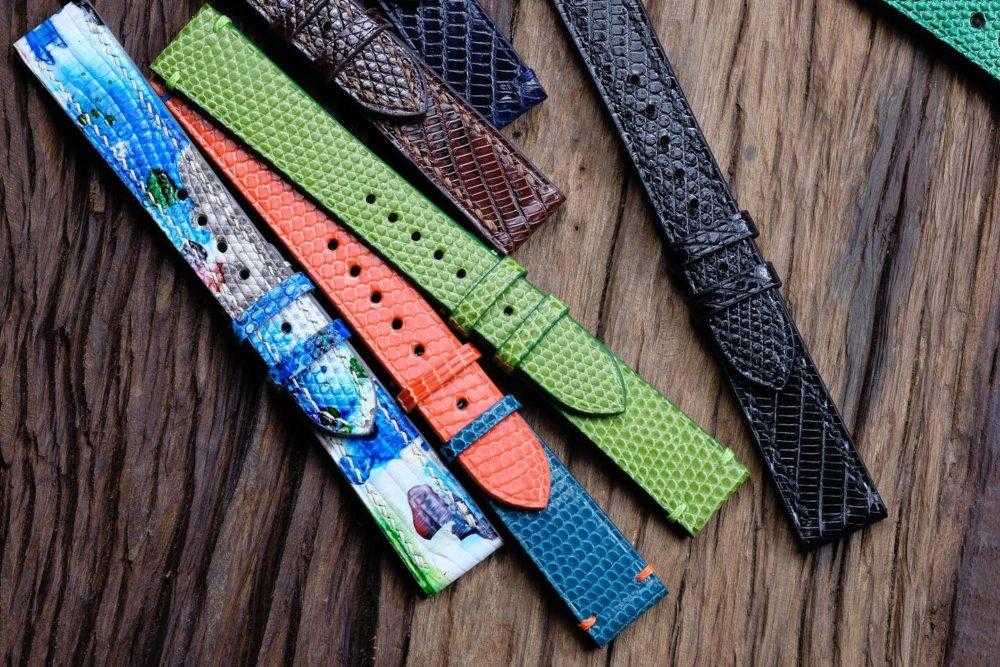 History of leather watch straps
Leather watch straps, an important part of a wristwatches' style and typical shape, are timeless and stylish. In another words, they play a crucial role in the look of a watch overall. In this post, Babu will share with you all knowledge on leather watch straps and their history so that you will get ideas for choosing, buying and using yours…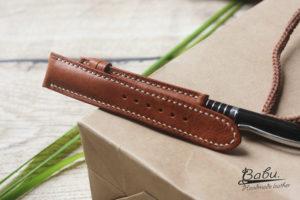 Actually, these days there are a lot of material options for watchbands from metal bracelets, rubber band, to leather watchband. Just imagine strapping on a watch and your mind probably goes to either a metal bracelet or a leather strap of some sort. But when we delve into the microcosm that's watch straps, and leather watch straps in particular, we find interesting variations. And of course, as with watches themselves, some very interesting history…
It's kind of mind-boggling to think that the origins of the luxury leather strap on your IWC Mark XVI, Omega Seamaster Aqua Terra or Oris Audi Sport GMT probably go back hundreds of thousands of years. It means that the history of leather watch straps is as long and interesting as the history of wristwatches itself.
Now jump forwards thousands of years to the late nineteenth century. It's the eve of the Boer Wars and World War 1 and most men's timepieces were pocket watches, carried securely within their clothing. So, when were the first leather watch straps made?
The first leather watch straps
Some sources put the origin of leather watch straps (maybe even the whole concept of watch straps) at the time of South Africa's Freedom Wars. The stories tell that soldiers had to discard jackets and waistcoats in the heat of the Veldt, and that's why they had to wear their pocket watches, on simple leather bands at first, on their wrists. However, some other sources put this evolution even earlier, during the Third Burma War of 1885.
There may have a number of different reasons for leather watch straps, primarily driven by changes in military requirements at the end of the nineteenth century, this transition started with the then-innovative leather-cup 'wristlets' containing 'Campaign' watches in Borgel cases.
Another possible reasons for a strap would have been protecting the precise mechanism and relatively fragile finish of contemporary watches from 'hazards' when removed from the pocket's protection. And, it is easy for both women and men to use.
With huge advantages, leather watch straps rapidly gained momentum with the military demands (such as artillery, aviation and accurate co-ordination of mass infantry operations) of WW1. Looking back with the clarity of hindsight, the military one-piece safety-pattern straps of that time were clearly forerunners of 1970s NATO or G10 straps. And of course, 20 years after the battles of Gallipoli, northern France and Belgium, WW2 saw further evolution of leather straps for military purposes.
For this post, we are going to focus on real leather watch straps rather than fake leather alternatives. So, let's discover the roles of this natural flexible material.
What is leather?
Leathers are generally subdivided into genuine and faux leathers. Artificial leathers have names such as 'pleather', 'vegan leather' 'bicast leather' and leatherette, as well as proprietary names such as Naugahyde and Alcantara.
Genuine leather is typically made from animal skins: cows, goats, sheep, pigs and equines (e.g. the fabulously expensive shell Cordovan leather named after the Spanish shoemaking city of Cordoba). Historically, and now controversially because of environmental and animal rights sensitivities, hides from creatures such as alligator, crocodile, lizard and other 'exotics' were widely used.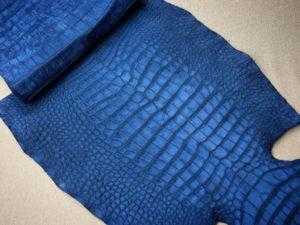 Nubuck Alligator leather
These days, the texture of alligator and lizard leather are stamped on cowhide or calfskin leather sheets, which is widely accepted. For example, some of MontBlanc leather products describes as calfskin leather with lizard embossing.
Faux leathers come from factories, but genuine leathers are produced in tanneries where hides are treated with natural and synthetic oils, dyes and other surface treatments, texturing and graining. Many different tanning and finishing processes, as well as the addition (or not) of padding (particularly for larger men's watches) are applied. As well as being dictated by required surface finishes, these are also determined by each tannery.
A faux or genuine leather watch strap?
Should you choose faux or genuine leather for your watch strap?
It's a very personal decision, but if you're comfortable with the ethics of animal hides, and you can find one that's compatible with the environment where you'll use it (for instance, in water or humid environments), we'd say go genuine where you can. Ultimately, the choice is yours.
All types of watch band materials have both good and bad characteristics. Nothing is perfect. What you need is that it is upon your demand. If you like a leather watch strap with reasonable price, and you don't really care about the quality of the strap, so a pleather strap is a perfect choice for you.
Types of leather watch straps
Leather watch straps come in a vast range of sizes, materials and styles, and at every price point. Let's look at the main types of leather watch strap. Some work beautifully with many different watch types, while others are better suited to specific types of timepiece.
Now, Babu will list some types of leather watch strap and analyse them so that you can understand and find out the one you like.
Stitched leather straps
Rally-style straps
Perforated leather watch straps
Bund straps
Padded watch straps
Leather NATO straps (and ZULU straps)
These types of leather watch straps can be easily found in handmade leather workshops in Vietnam like Babu with a wide range of prices.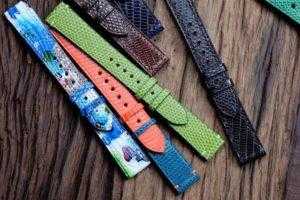 Leather watch straps made by Babu with a wide range of colors and sizes
Stitched leather watch straps
Many genuine leather watch straps are manufactured this stitching leather, usually in conjunction with gluing. Stitched leather watch straps can be applied to many different materials such as alligator leather, cowhide, or lizard leather, etc. They can be sewn by machine or by hand (handmade leather watch straps) or using both sewing methods.
As well as being part of the watch strap's structure, stitching contributes much to your watch strap's character and appearance. Gluing and stitching is a traditional way to create double-thickness straps (or lined straps, where leather is backed with material, whether leather or not, having different aesthetic or functional characteristics).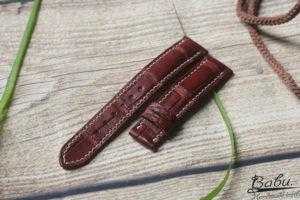 Babu's hand stitched alligator watch strap
The quality and aesthetics of stitching are as important as the leather quality for the durability and appearance of straps. Using matching or contrasting stitching effectively distinguishes a particular strap and provides contrast, which creates the harmony and unique appearance of a watch.
Rally-style straps (racing pattern straps)
With such a strong historical connection between horology and motor sport, it's no surprise that trends in vehicle technology soon found their way into watch strap design.
The trends from the 1960s and 1970s (arguably a golden age of motor sport) may seem very low-tech now, but they've left a mark on watch strap design. Back then, race and rally cars, the circuits they raced on and the drivers' equipment were very different to today's. Leather driving gloves (with knuckle cut-outs and finely perforated fingers) and ventilated seat panels were de rigour. Their role is to help dissipate the considerable heat generated in racing car cockpits and make life slightly more comfortable for drivers and navigators in long and stressful racing events.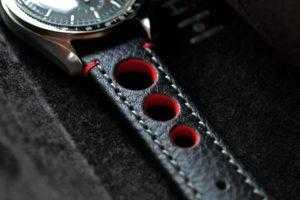 At the same time, metal components in race and rally cars (including chassis parts, pedals and steering wheels) drew on aerospace experience with punched or drilled cut-outs to reduce weight. This trend peaked in the 1960s and 1970s with the appearance of leather and metal-bracelet rally watch straps from brands such as Tissot. Their cut-outs, albeit more for appearance than function, were a clear nod to similar details on competition cars.
Rally-style straps are particularly suitable for watches with a large dial which have the timer function in sports races at that time. In particular, they are cooler in the heat, so they bring about not only the aesthetics but also practical benefits.
Bund straps (or Bund pads)
Bund watch straps are broad backing straps, typically made of leather, to which a watch head, and sometimes the watch's thinner main strap, are attached. Bund straps may be either single-piece straps or two-piece straps secured by rivets, tabs or spring bars.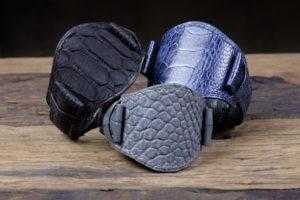 Bund Straps
Although such leather straps have been used for well over a century, the 'Bund' descriptor most likely comes from the mid-1950s. Specifically, it almost certainly dates from the formation of Germany's Federal Armed Forces (Bundeswehr). Other sources suggest that Bund straps were widely adopted by the German military from the 1960s onwards, before gradually finding their way into the watch strap mainstream.
Regardless of when the term 'Bund strap' was coined, straps of this type date back to at least WW1. They may have been around even earlier because, as mentioned earlier, pocket watches were being converted into early wristwatches or wristlets by the end of Victorian times.
Later, as aviation developed, pilots probably started using padded straps for different explanations. Many people think that the wide backing helped the transition from pocket watch to wristwatch. It's also been suggested that 'Bund-type' straps provide insulation against the heat of cockpit fires or extreme cold during high-altitude flight if the watch was worn against the skin. Another suggestion is that they were worn to avoid the large 'onion' or 'pumpkin' crowns of aviation watches' digging into the skin when the wrist was flexed. However, more recently, a Bund watch strap could be expected to help with the large crowns on many modern divers' watches or pilot chronographs if they're being worn on an uncovered wrist.
A third possibility, dating back to the earliest days of wristwatches in the late nineteenth and early twentieth century, is that early wide bands protected watches' thin chrome plating from discolouration against the skin…
Although it is not as popular as other strap types, Bund straps are suitable for many wristwatches from Stowa, Laco, Hamilton to IWC.
Padded watch straps
Padded watch straps are those where two pieces of leather are glued and stitched around a core. Various core (or padding medium') materials are used. These range from cardboard and cotton wadding to neoprene foam, fibreglass-reinforced synthetics or even leather.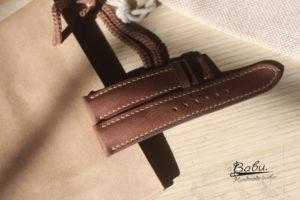 Don't confuse padding with the watch strap linings often incorporated into strap designs. Linings are typically soft, absorbent genuine leathers such as suede or nubuck. Alternatively, they may be high-performance synthetics such as Cordura. These 'lining leathers' help the long-term durability of the strap and its resistance to perspiration and other external influences. They are typically glued and stitched to the inside of the strap.
In the 1980s, heavily padded watches hit the mainstream. Breitling are credited with being pioneers, hence the so-called 'Breitling-style' padded watch strap. These quickly became known for their luxurious padding, contrasting stitching, and quality.
Leather NATO straps
NATO or 'G10' watch bands from the 1970s were officially specified as nylon, not leather. However, it's little surprise that as their popularity extended beyond military circles, such a functional strap design would be made in other materials.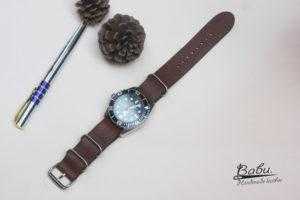 As well as being very secure and practical, NATO straps are versatile and suitable for dressing up or down with your mood and your chosen 'watch of the day'. No wonder so many watch fans keep a selection of NATOs in their watch drawer. Of course, there's only so much you can do with even the brightest regimentally-striped NATO. Therefore, for many people, the time comes when they crave the functionality of a 'G10' and the sensuous appeal of genuine leather. That calls for a genuine leather NATO strap, a great-value accessory that looks good in formal as well as informal situations.