How to clean your wristwatch? How to make your watch look like a new one?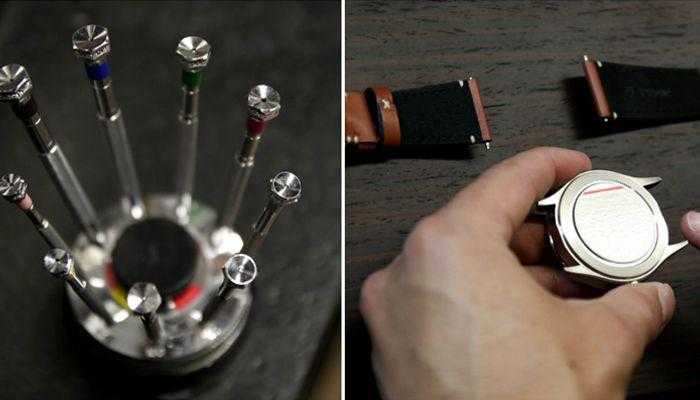 Everything will get old over time, and wristwatch is not the exception. However, it is not difficult to clean and maintain your watch's best condition.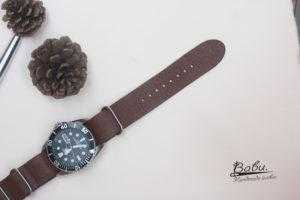 Keep the watch in its best condition
In this post, Babu will share with you some tips on cleaning your watch properly. Although these "tricks" are really simple, not everyone knows.
Clean your watch properly
Before cleaning your watch
Be careful before cleaning your watch! Choose a wide surface and spread the cloth on the table in case you are careless to scratch the watch, especially the hard glass of the dial.
Make sure the crown is screwed down securely so that dirt or water can't get inside the watch. Even the most water-resistant of watches is susceptible to damage if water leaks into the movement – and the crown is the most vulnerable spot for leakage.
No matter whether the watch band is leather or bracelet, you should remove it from the watch case and wash each part separately. Make sure you choose the right cleaning method for your band type.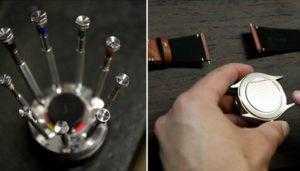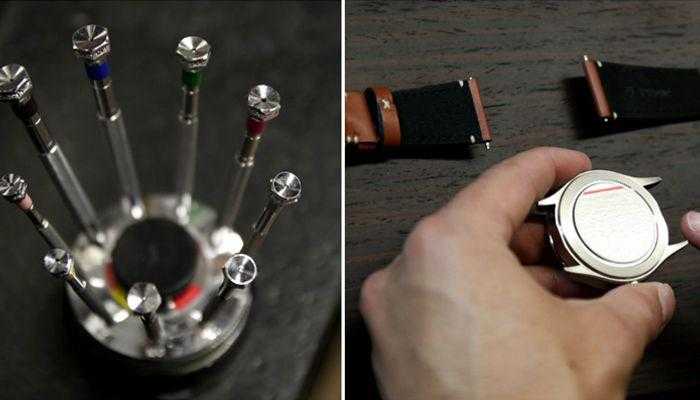 Prepare tools to clean the wristwatch
If your watch band is metal, you need to prepare these following things: a piece of soft cloth, an old brush, clean water, some soda or toothpaste.
Leather bands cannot be exposed to moisture. Just wipe those down with a piece of soft and dry cloth, baking soda, and if possible, prepare a little leather oil and leather polish.
Procedure of cleaning the watch
Depending on the cleaning process and watch type, we will have different ways to clean it. If your watch band is interchangeable, remove the watch case from the band and wash each part separately.
How to Clean a Watch
No. 1: Cleaning the Watch Band
Currently, there are a variety of watch bands, and each of them will be cleaned in different ways.
Stainless steel band is widely used. Almost all of the wristwatch use this type of watch band material.
Step 1: you can use pure water and brush to scrub every nook and cranny of the watch band.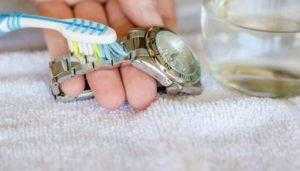 Use a brush to dust every corner of the watch band
Step 2: Use dried cloth and a hair dryer on a low or no-heat setting to dry the bracelet or let it dry naturally.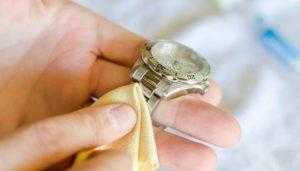 Pat the band dry with a soft cloth.
If you haven't cleaned your watch band for a long time, these two steps above can't clean it. You need to use some mild detergent chemicals such as toothpaste or soda.
Cleaning leather watch straps
The process above works for just about everything. But leather requires special care. With leather, the process of soaking up moisture and then drying out again is what causes the material to break down and crack. You should clean the leather watch strap every day with a clean cloth to assure that it is dry when you put it back on, and do the thorough cleaning every 1 or 2 weeks.
Step 1: Use dry cloth to dust the strap.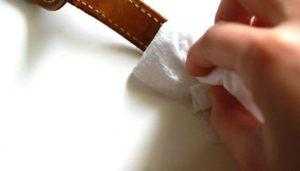 Step 2: Use a damp cloth and soap to remove stubborn stains on the leather straps, and then use a damp cloth to wipe the soap out of the strap.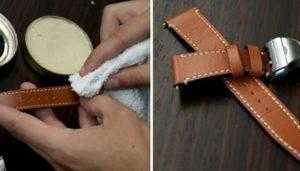 Step 3: To cleanse the odor, mix soda baking with some water, and then apple the mixture onto both sides of the leather strap. Leave it for about 1 hour and rinse with a damp cloth. Afterwards, let it dry naturally or use a dehumidifying pack. Do not put it under the direct sunlight or use a hair dryer because it will make the material become harder and easily break down.
Step 4: This step is for those who are careful and want to spend more time on their watch. Use the oil to maintain the leather elasticity and softness, and the leather polish to make it new.
So, we complete the cleaning process for leather watch straps.
Cleaning the fabric watch bands
If your watch band is fabric, you should regularly clean it because this type of material is easily absorb sweat and dirt. However, it is the easiest watch strap to clean. Simply use a little mild dish soap and warm water and gently scrub the strap. Rinse it thoroughly and set it on a flat surface, away from direct sunlight, to air dry.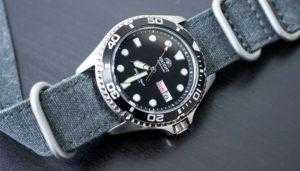 Orient Ray FAA2004B9 combined with nato band
Cleaning rubber watch bands
It is easy to clean a rubber watchband; however, to assure its durability, you should not use detergent chemicals but use clean water only to clean. Because rubber's characteristics, it is easily affected by chemicals which make it easily to break down. Thereby, remember to clean it on a regular basis so that you don't need to use chemicals for cleaning.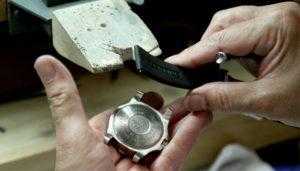 Remove the rubber watchband to make it easier to clean
No. 2:  Clean the watch dials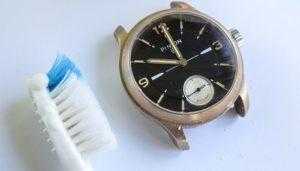 Step 1: Make sure the crown is screwed down securely. Even the most water-resistant of watches is susceptible to damage if water leaks into the movement, and the crown is the most vulnerable spot for leakage.
Step 2: Get out some mild dish soap. Add a couple drops to a bowl of warm water.
Step 3: Wipe down the watch case. For water resistance up to 30m, a damp cloth is the safest bet. Higher resistance than that and you're probably safe to break out the new, soft-bristled toothbrush and clean a bit more thoroughly.
Step 4: Rinse off any residue. Use the same tool chosen for Step 3 to ensure you're not exposing your watch to more water than it can handle.
Step 5: Dry with a microfiber cloth. Microfiber won't scratch and will give your watch a nice shine, too.
After the cleaning is done and making sure that the watch band and the watch dial are dry, what you need to do is to reassemble all the components.
Why you should keep your watch look new?
Even after cleaning your watch, you still feel uncomfortable with scratches on the glass or especially on the watch case, so what will you do?
For the watch face
For the mica glass, when there appear some scratches on the watch face, you can definitely handle them at home by using a soft cloth, preferably 100% cotton, and toothpaste and scrub the scratches. You will be surprised that the scratches will disappear.
However, if the watch face is reinforced glass, it is better for you to ask for professional help. Reinforced glass is harder than mica one, so using toothpaste just doesn't help. The price for polish is not too high, so you don't need worry.
Sapphire glass is the best scratch-resistant material, so it is almost impossible for the glass to get scratched. If scratched, it can be only replaced.
For the watch case
Watch case made from many different materials
If your watch case is stainless steel and doesn't use the PVD coating technology, it is not difficult to maintain your watch case's new look. With the current polish technology, watches can become 90% as new as their original condition.
For watches wit coating technology, it is quite difficult to make it look new again. However, we have the technology that can re-paint the watches so that they can be as new as the original condition without any scratches.
Watch cases using undereinforced steel will be replaced. That's why Babu recommends you to buy a stainless steel watch.
Above are all experiences of cleaning watches that Babu wants to share with you. Babu wishes you lots of interesting experiences with your valuable watch.