How to recognize a real crocodile watch strap?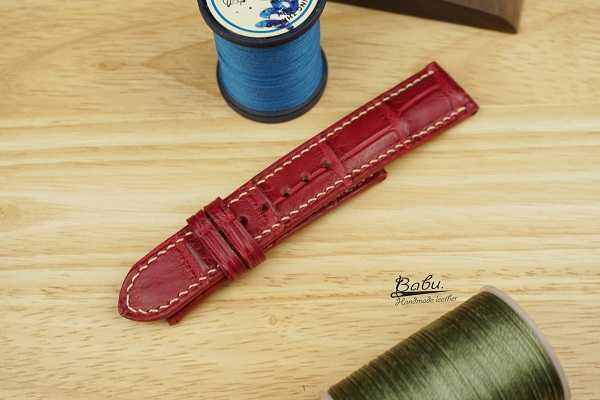 A quality alligator watch band is an essential accessory for a wristwatch. More than the purpose as a band, crocodile watch straps also bring a high aesthetic value. Your feelings can be affected by the type of the watch band you wear. It can be harmonized, stability, comfort, and confidence.
One of the best skin animal choices for the world's most elite luxury leather watch brands which is very fine is an alligator or crocodile leather. In the modern world, it is hard to distinguish full grain genuine leather from artificial one. So let's figure it out some way!
Why crocodile watch straps are popular in the fashion industry.
As you know, real alligator watch traps nowadays are more and more difficult to find, and people tend to alter them with synthetic one. So, below are some given reasons.
Top Quality
As the king of leather, Alligator skin has amazing features. During this time, the luster will not fade away, it will become even more shiny. The more you use, the more natural luster it is. Especially for items like alligator watch bands or alligator watch straps, when you use them every day, they look more and more gorgeous. Van As- the alligator farm owner in Australia said: "The bottom line is that one cannot expect to harvest a first-grade skin from an animal which has been abused" . So, keeping the animals happy and taking care of them are two important things that make the most wonderful top alligator leather watch strap in the world.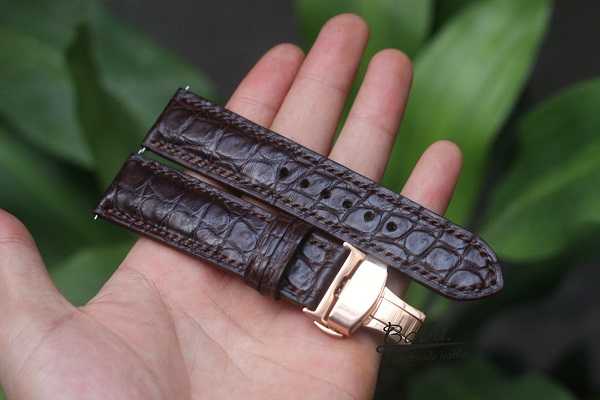 Very limited
There are 2 sources of exploiting alligator leather in general and alligator leather watch strap in particular. One from nature, one from the farm. The first source can afford about 25.000 bags every year, and the rest of manufacture comes from the farm. The key point is that no alligator or crocodile is easy or cheap to raise, and it takes years to breed them. While cows can ruminate for hours on their own in a meadow. From the moment an 80-gram African Nile crocodile is born out of the egg, The owner has to provide a quiet environment as natural as possible.
We also have to spend time cleaning up their pens, and they also require a strict feeding routine.  They dine mostly on chicken and selected oils to enhance and protect their skin. That all promotes growth, reduces stress and helps keep the alligator' mighty jaws off each other.
Beside that, An average handbag can be crafted from as few as two skins. This reason can explain why the stuff that is made of alligator is more and more in shortage. Moreover, there are women who don't ever care about money and love beautiful things, they are welcome to pay a huge amount of money to own what they love. '" The trend of using alligator leather watch straps is never ending. That is classic" said Gianluca Brozzetti, CEO of fashion house Cavalli.
In that way, we understand that, to have a very beautiful alligator leather watch band, people have to put in a lot of work. If you already have a crocodile watch strap, you must protect them so much.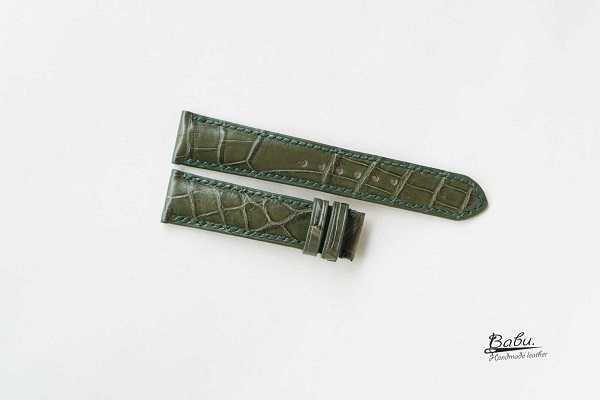 Leather processing is very difficult
It is too complicated to master the perfect production process of alligator skin to have a piece of leather watch bands. First of all, It is not as flat as the entire surface of the cowhide. Due to its own characteristics, crocodile skin processing technology can be divided into 3 three steps: early stage, middle stage, later stage. All steps need a good set of technologies, they are independent and interlocking. The result can be totally changeable if one link is wrong. Why is each piece of crocodile leather unique? The answer is each piece of crocodile leather never repeats the same texture of each piece. Alligator leather watch straps are very small so they need to be even more meticulous.
For those reasons, manufacturing artificial leather is crucial to meet the needs of the lower segment for those who don't have enough money to pay for the real one but still want to have a real alligator watch band. However, there are some people who want to fake and sell with the high price in order to make more revenue. So as the smart purchaser, we need to figure them out to have the real full grain- genuine alligator watch strap.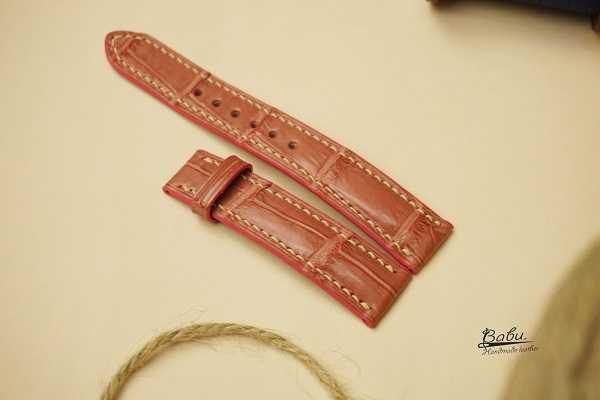 How to distinguish real crocodile watch straps or alligator watch straps?
Look for patterns
There are no two real alligator items that look exactly the same. Because of the natural features of alligators, the price is different from others. So if we are seeking a real alligator leather watch strap, be careful with the items that have a perfect pattern. The genuine alligator leather has never had a uniform geometric pattern. People are mostly confused with crocodile watch straps and alligator watch straps. The obvious pattern is that The alligator is generally smaller in size than the crocodile.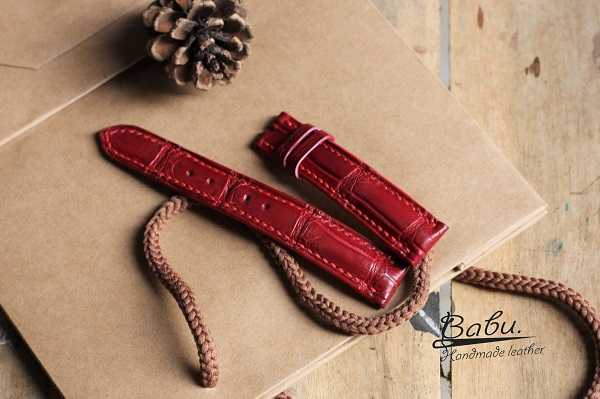 Try to bend it
Alligators may be fairly flexible in real life, but their skins don't have a lot of elasticity. If you've ever owned an alligator watch strap, you know that these products require intentional care to prevent cracks and creases. If you bend it and feel it is very stretchy and flexible, it's not a real alligator watch band.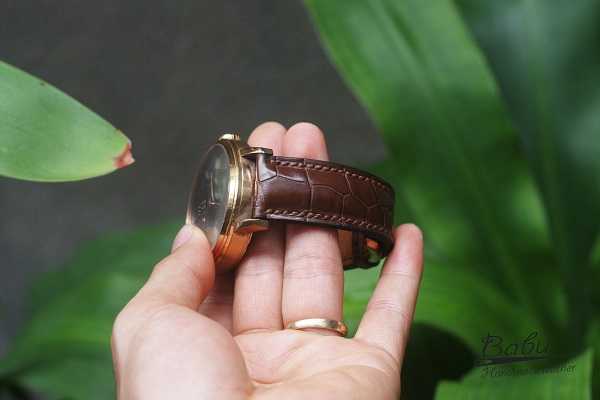 Use your senses
The easiest way to check a genuine alligator watch band is to pick the one you like and smell it.If it feels like plastic and artificial, you had better put it down and go away. So, what about the smell of real leather? Due to the vegetable tanning, natural dyes, and no chemical process, my leather smell rich, earthy, and slightly sweet. The second way is to touch it and look at it. The fake leather may have a shiny surface, but the real alligator watch strap has to be experienced by the time to get that kind of shine.
Check the price tag
A crocodile watch strap is one of the luxury segments. The material is a high- end segment, and consumers pay for its luxury. . If you walk out of an alligator watch strap store with a price which is cheaper than the value. It's an imitation.
Ask an expert
If you use these tests above and still do not recognize where the real crocodile watch strap is, you should ask the expert for an answer. They can quickly assess the product to determine if it is real or fake alligator leather due to the experiences.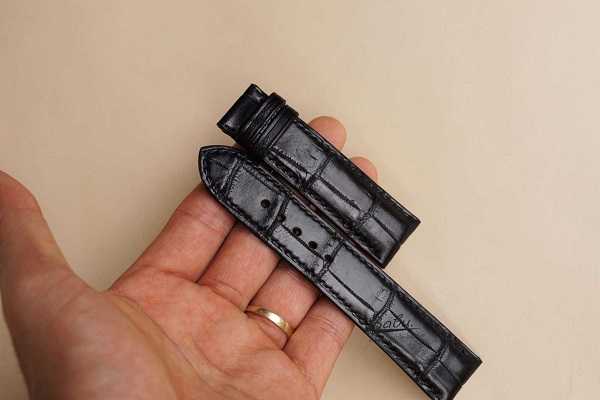 With all these methods above, Babu handmade hope to provide you knowledge to have a better choice in choosing a real alligator watch strap. Especially, after a long time of searching for the customer's need, we confidently offer one of the best- selling items from the shop, that is the alligator apple watch band. You can find enough reasons why you should choose alligator apple watch trap  here.