Why choose alligator watch bands or alligator watch strap?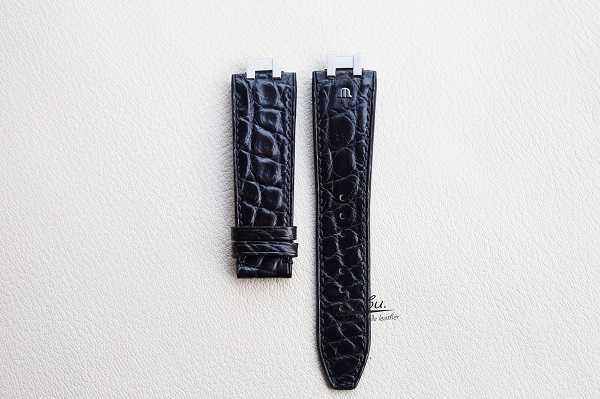 For those who are wondering if choosing a high quality alligator watch straps made from alligator skin is a good idea. So today, we will help you answer all your doubts clearly about "Why Choose alligator watch bands?" and "how to choose a real alligator watch strap?".
Why are alligator watch bands popular?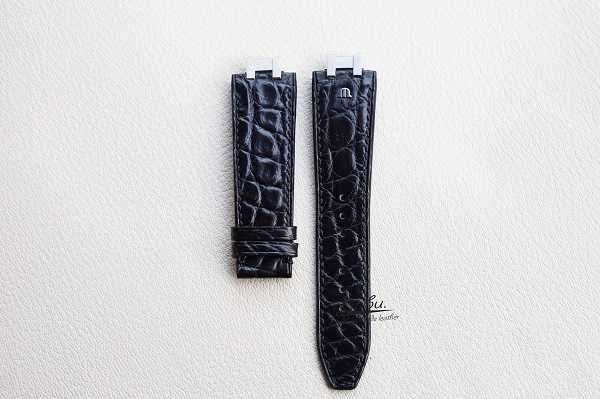 No one can deny the well- known watch bands which are the most widely used in the international watch- market are alligator leather watch straps.
From the most classic watch to the most modern one, from the most virile to the most sensual, with a small square shape, the multitude of tannings and finishes that sublimate the appearance. All these factors prove the fact that nothing can prevent alligator watch bands from combining shapes and the spirit of watches together.
The alligator leather watch strap is softness and flexibility
High quality alligator watch straps will almost always have a simple design to show off the natural characteristics of leather. Alligator skin is rated as a luxury leather material. It stands out because of its durability, softness and flexibility. There is a fact that it is one of the best types of skin with its unique structure. High quality alligator watch straps are usually carefully handcrafted from full grain and exotic alligator leather. So they are unmatched in softness, and flexibility.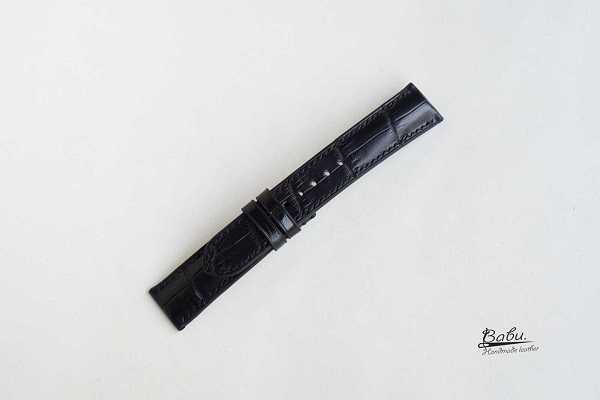 The alligator leather watch strap is durability
On the other hand, natural oils that appear on the skin help improve durability, prevent cracking, even if they are exposed to the direct sun or under the extreme weather. It is said to be the "diamond" in leather types. Alligator skin is highly recommended as thinner, highly breathable, non-static, well insulated with a firm crust. So the high quality alligator watch straps are very tough and resistant to environmental effects, and their durability lasts a long time. You can believe its durability lasts a long time.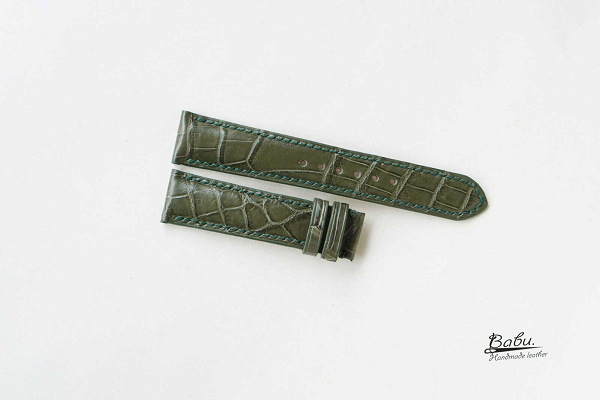 The expensive vein pattern of alligator watch bands
Moreover, alligator skin is highly appreciated by not only its quality, but also by its expensive vein pattern. Every alligator has its own characteristics that make the lines differently, prominent and sharp. Workers almost use all the parts of alligator skin to make use of creating more fashion products with the wild beauty. There is no matter if they are humpback, back, abdomen, or legs. They all have a different meaning and add a value to the products which are manufactured.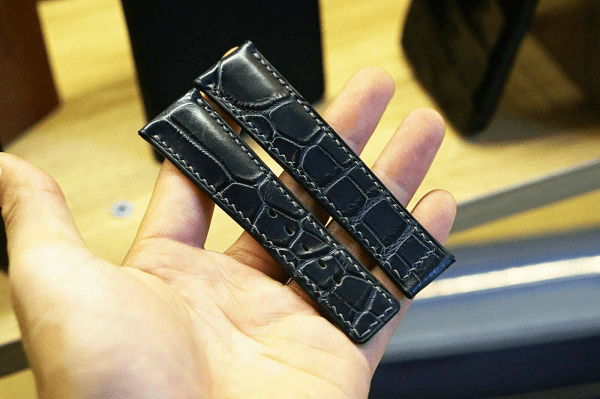 Maintenance alligator watch bands are easy
Plus, for maintenance alligator watch bands are also as easy as a piece of cake: You just need to wipe them with a damp paper towel to keep them clean and leave them to dry on air. There is a notice that you should avoid using chemicals, except occasional treats with conditioning cream. Without chemicals, they are most suitable for people with sensitive skin and prone to allergies.
With all these facts above, it is easy to understand why having an alligator watch band is not only a great idea, but also an appropriate investment in your stylish appearance.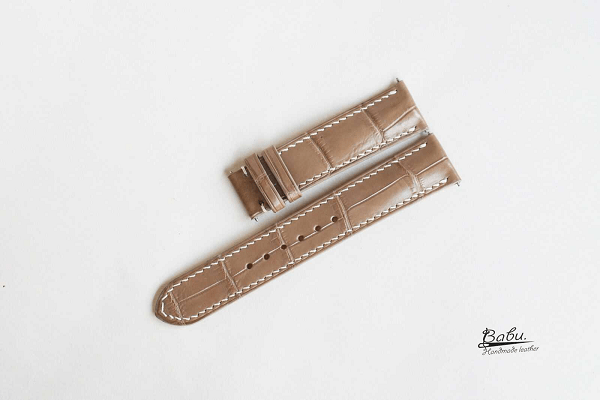 Distinguish genuine alligator watch strap – full grain leather and embossed leather?
When you decide to invest quite a lot of money in buying full, grain – genuine alligator watch strap in general and in buying an alligator apple watch band in particular. It is important to avoid purchasing fake leather at a premium price. Below are five ways to tell you what leather piece is "full grain".
Identify alligator leather by its softness
Genuine alligator watch straps are soft and supple. Unlike other leather ( such as Caiman leather), they are more rough and rigid. You just simply run your fingers along the leather to check if it is soft (meaning it's alligator) or rough (meaning it's likely caiman leather or others one)
Bend the alligator apple watch band
Because of the softness and suppleness of the real leather, once you bend, the color changes slightly, that is the real one. Similar to the "wrinkle test" real leather has a unique elasticity when being bent, changing color and wrinkling up naturally.
Check by dying a piece of leather
Alligator hides are softer, so when it is dyed , the color is absorbed smoothly and uniformly into the leather. There are no areas that are darker or lighter than others. If leather that has been dyed is likely to look blotchy. It is one of the signs that help you check your product effectively.
Use a drop of water
Drop a small amount of water on the face product, the real leather absorbs moisture better than the fake one. If the water will simply puddle up on top, the leather is just a fake one. The real leather just takes a second to absorb a small drop of water. You can check quickly this way.
Press into the alligator apple watch band
Because Synthetic materials tend to retain rigidity and shape. So when you press into the leather, real leather will wrinkle under the tough, just like real skin.
Tips to check the alligator watch bands
In addition to the above methods, we also have some tips to check the alligator watch bands with crocodiles or caiman. They are quite similar.
Different scales
Caimans and crocodiles have uniform scales with small dots in the center of the scale, while alligators have more natural shapes with lines in the center of the irregular tiles.
The similarity of back and belly tiles: alligator has different patterns on belly and back, while caimans and crocodiles have similar on both sides; umbilical scars are more differentiated in alligators than in caimans and crocodiles.
Look for cracks to identify which are alligators
Because the alligator is more pliable than a caiman. So when you bend the goods, you will see less light cracks than when you bend the leather of caiman which is the lower quality reptile leather.
Base on pores to distinguish alligator leather from others 
The single most outstanding feature to distinguish alligator leather is the umbilical scar pattern which is an elongated state shape. The alligator is the only animal  that has this feature and also because of this reason, it is often prominently on products to show the authenticity of the leather. This means that the patterning of the crocodile scales is more uniform and regular than the alligator.
Popular alligator watch bands at Babu Handmade.
Alligator leather watch strap at Babu Handmade is an imported alligator leather watch with a variety of colors and designs, handcrafted by skilled workers with many years of experience. Owning and wearing a Full Grain or genuine alligator watch strap or alligator apple watch band will partly help you show your sophisticated, unique fashion sense and express your personality and identity.