Leather Types Used In High-class Fashion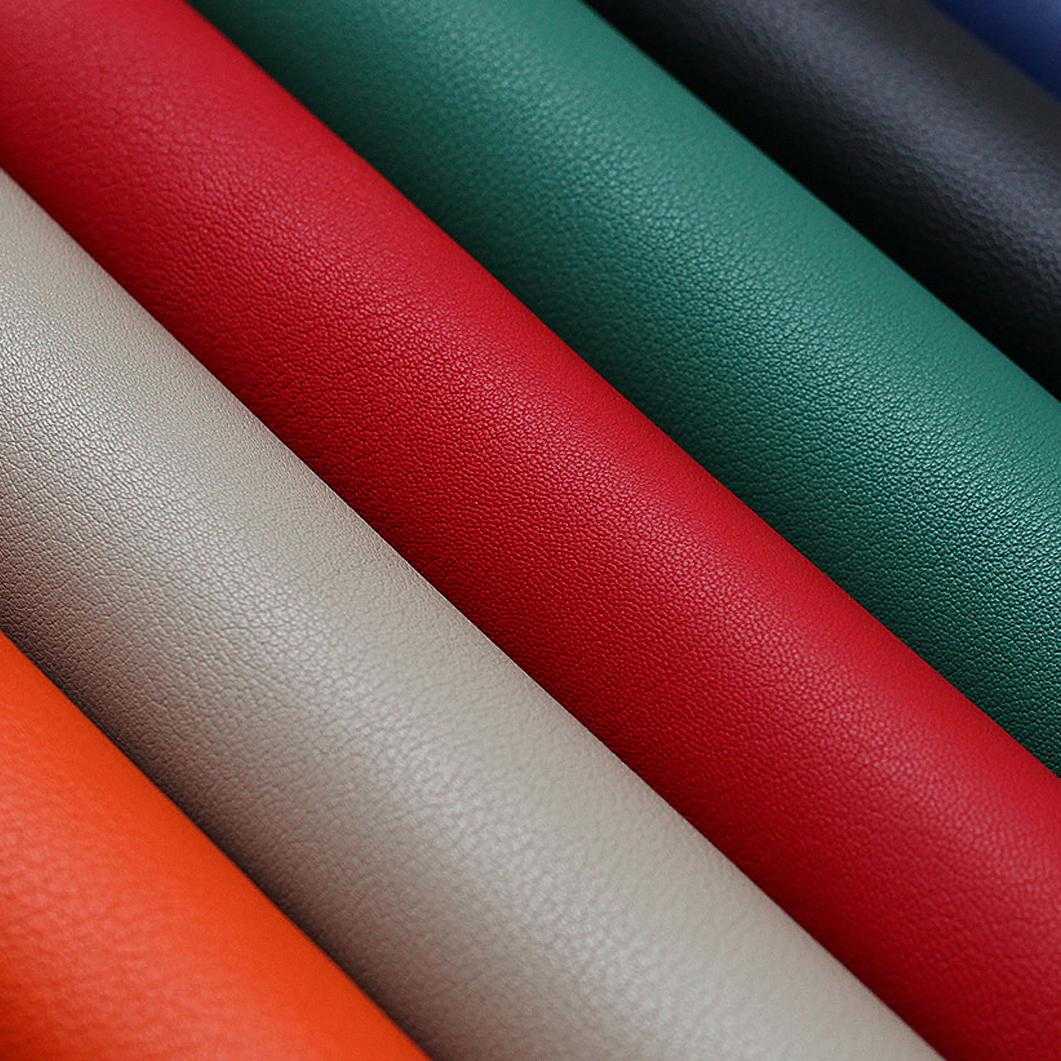 Leather is believed to be the soul, the "essence" of well-known brand goods. Let's take a look at the names of products which are being hunted in the high class fashion market.
Alran goat leather
Alran goat leather is made by Alran SAS of France which was founded in 1903 by David Alran. In the middle of the 1980s of the 20th century, Alran SAS became "the best leather manufacturer" in France, and has remained this honor for more than 100 years.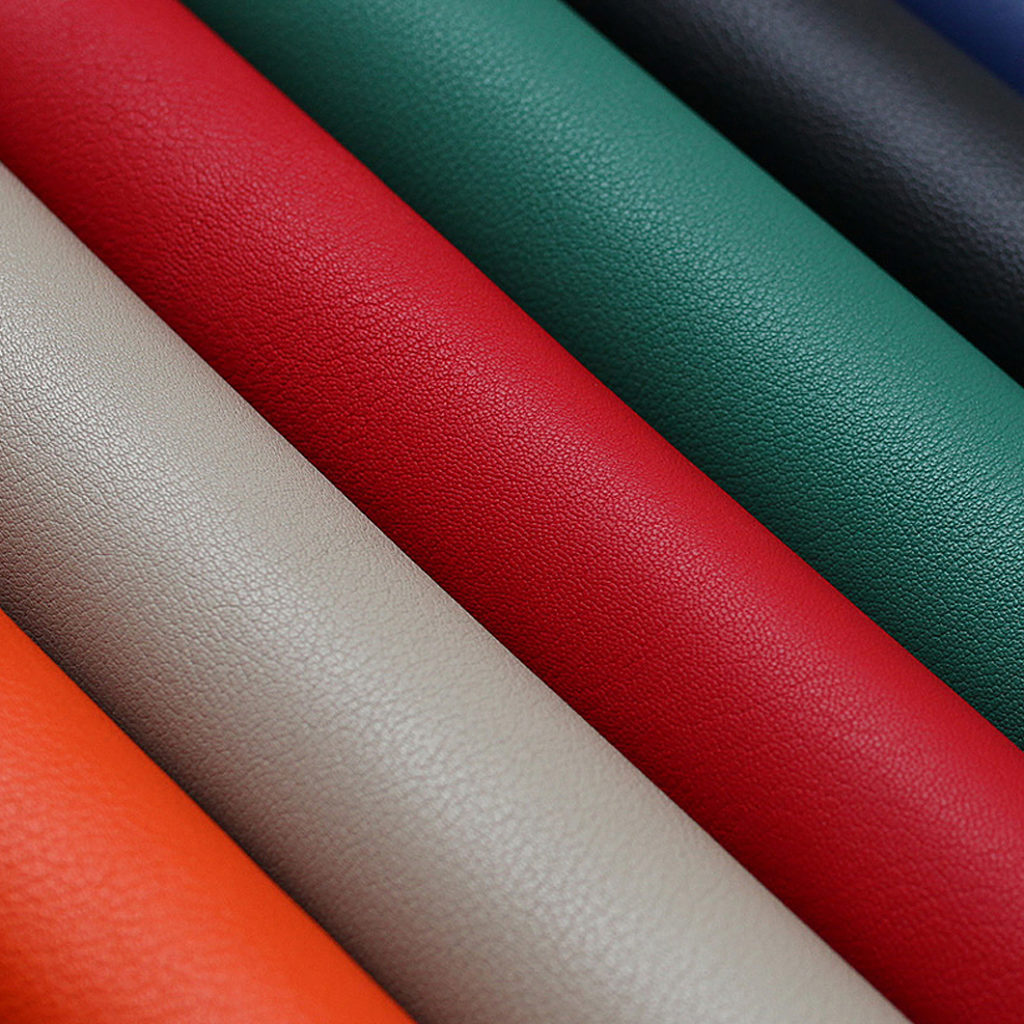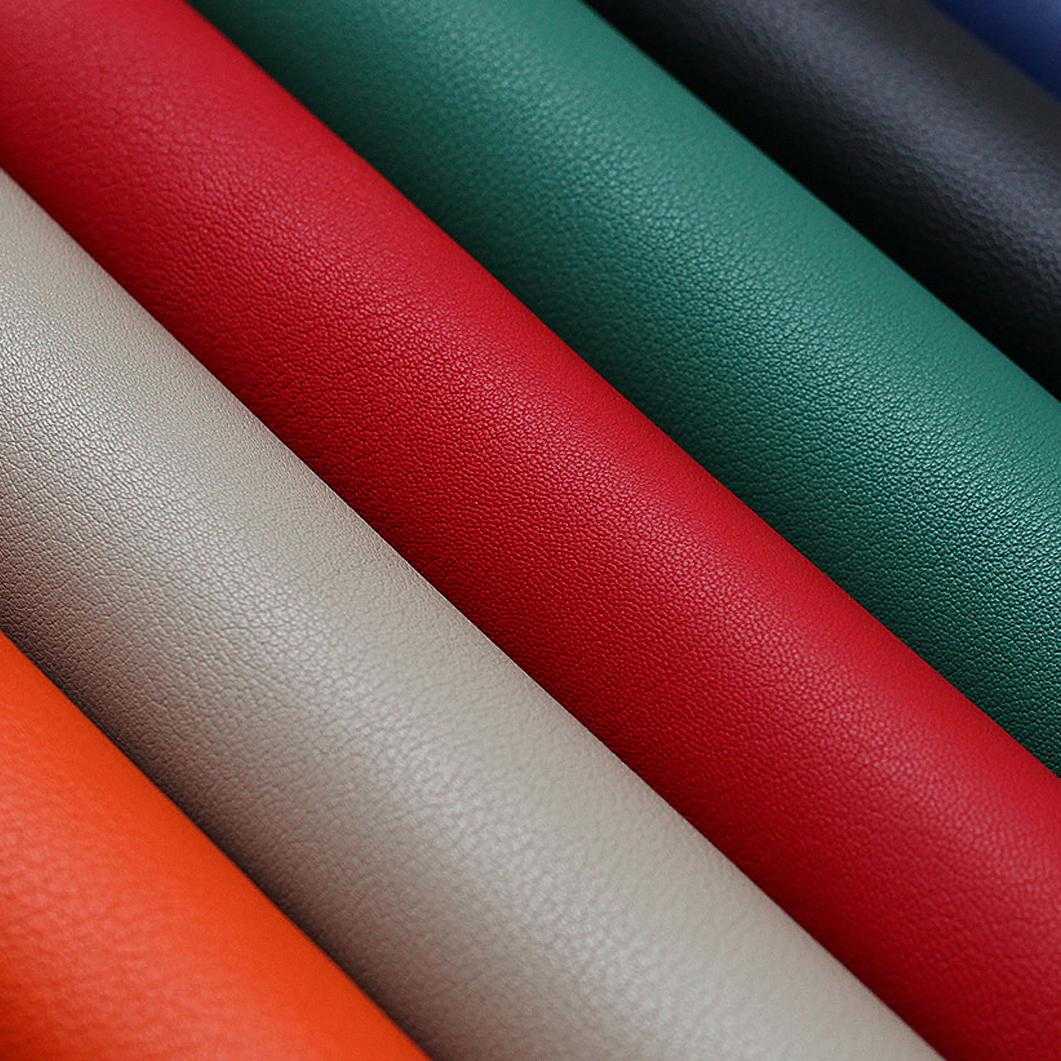 Sully Alran goat leather is one the most popular materials widely known by designers. It is the manufacturer's no. 1 high quality leather line. To produce Sully Alran leather, the goat leather is exposed to the sun light and undergoes through a strict 23-step procedure which will take more than 3 weeks for completion. This process has a number of manual steps to produce a product with exquisite colors and great durability and softness.
Due to the elegant appearance, smooth surface, softness and flexibility, products made from Sully Alran goat leather are favoured by both females and males. It is the choice of many artisans because this material requires the meticulous attention in the manufacturing process.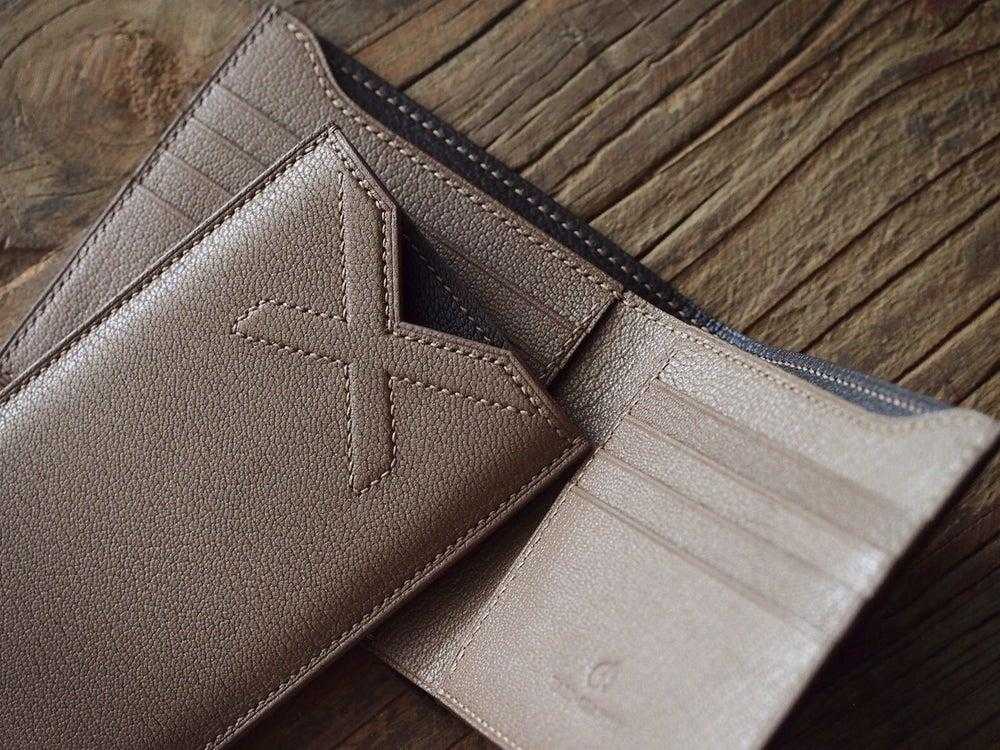 A handmade leather wallet for men and handmade leather phone case made from French Alran goat leather.
Epsom leather
Epsom leather is one of the high quality leather types used by Hermes for its premium products. Epsom leather texture is not natural. In fact, it is covered with a layer of lamilate and stamped texture by the manufacture.
A product made from Epsom leather will remain its shape over time. Along with the durability, its surface is water-proof, and scratches on the surface are almost unseen. The leather is light and easy to clean with a damp piece of cloth. Basically, it is a great option for those who go on a frequent travel or those who are not too picky and attentive to protect leather products.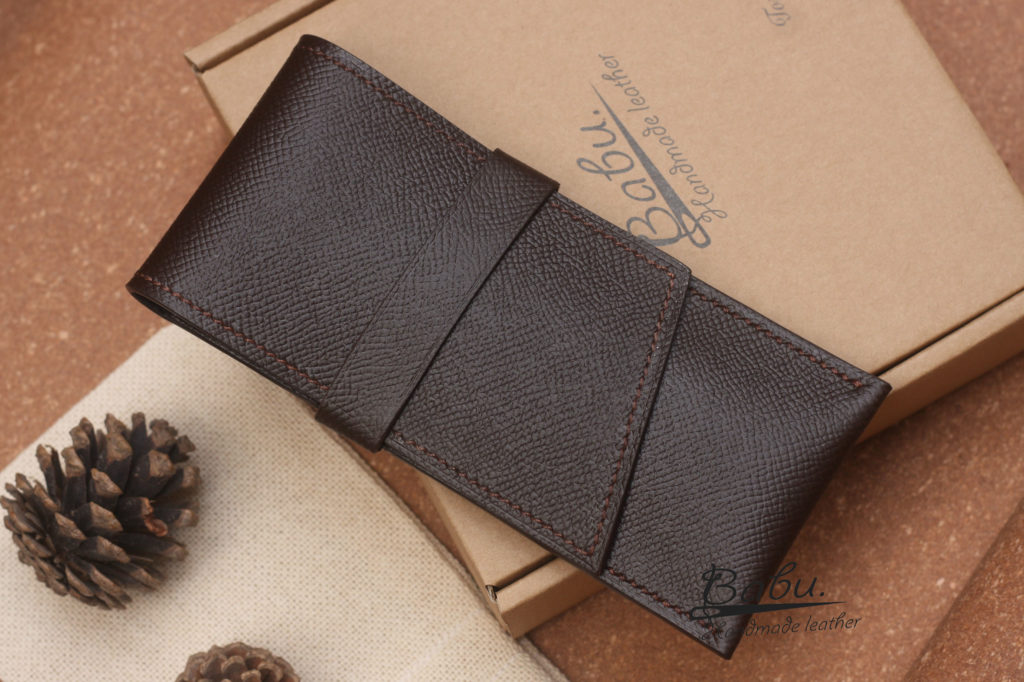 Epsom leather pen case
Belts are one of the most popular products made from Epsom leather. The belts are often stretched or directly impacted by the metal buckles. Epsom leather helps to remain the belts' form.
Togo calfskin
Another leather frequently used by Hermes is Togo calfskin. Togo calfskin stands out with its clear and soft texture which is a perfect choice if you are looking for a durable and beautiful leather product which is easy to maintain. The leather is not deformed much even when carrying heavy objects.
Togo Calf leather clutch bag
Saffiano leather
The father of Saffiano leather is Mario Prade – the founder of the world's most famous fashion brand – Prada that every fashionista knows what-it-is. The first product of Saffiano leather is a handmade handbag of Mr. Mario Prada in 1913, and it is also the beginning of this famous fashion brand that was named after him.
Saffiano leather is one of the most durable and waterproof leather thanks to its waxed surface. The wax on its surface can well handle all the problems that a normal leather product has such as effect of external force and bad moldy weather conditions. Under the wax layer is real leather, so it is impossible for the leather to be peeled or cracked. It is really great choice for any leather lover. The texture of Saffiano leather can't be mistaken at the first sight for any other leather type because of its special appearance which looks like Louis Vuitton with monogram pattern (L and V) or Gucci (two letter Grs are upside down). Additionally, Saffiano leather is available in a wide range of colors due to the wax coated on the surface. Thus, every product made from Saffiano leather creates an enthusiastic and colorful feeling.
Shell Cordovan Leather
Cordovan is an equine leather made from the fibrous flat connective tissue (or shell) beneath the hide on the rump of the horse. This leather layer is structured with collagen fibers derived from a blend of flesh and cartilage. Shell cordovan has a unique non-creasing characteristic. Because it is made of connective tissue, it is smooth and lacks the pebbled effect of leather derived from animal skin. This leather structure can be only found on horses. From the horse's butt, you can get only 2 pieces of oval skin with the maximum size of 0.3m2. It can be said that right from the step of raw material, Shell Cordovan leather has been very special and rare.
Each piece of Shell Cordovan leather undergoes a 6 – 9 month process (Horween) or even 10 month process (Shinki Hikaku); meanwhile, industrial leather only take from 24 to 48 hours. Shell Cordovan leather is tanned with plants in a special and traditional formula. With a long tanning time, the tanning substance penetrates deeply into the leather to help it completely and smoothly tanned. The finish process is mainly conducted by hand (shaving, dyeing, polishing, etc.) to produce a type of leather with deep color, gloss like mirror, and extremely smooth surface. With the special material, long and complicated tanning process, as well as perfect quality, Shell Cordovan leather is one of the most expensive leather types in the world.
Epi leather
Since launched in 1985, Epi leather has been widely used for different fashion styles from Speedy and Keepal to more updated styles like Twist and Petit Malle. Epi leather is inspired by the leather model used by Louis Vuitton since 1920. Due to its thicker leather structure, it is more durable than other types of leather, which will be a good option for long journeys.
Bifold wallet is made of Epi leather
Epi leather is extracted from plants
Epi leather is very durable and waterproof.
Epi leather is still a controversial material. Some people never using Louis Vuitton think that Epi leather looks like plastic because Epi leather texture is stamped and hard. Some people don't like Epi leather while the others like it.
Babu Handmade leather workshop
Specializes in making high quality handmade leather products