Kinds of leather watch strap and facts that you may not know
Leather classicizes things. If you want to make your items become more luxurious, more vintage, just combine it to leather. Not an exception, leather strap brings about differences for your watch, it even makes owner become more charming. Leather was first used in army in late 19th century, some believed that it was material to make watch strap.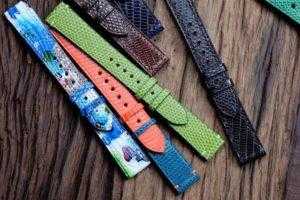 Nowadays, thanks to development of technology, watch strap is not completely made of natural leather, it is divided into 2 main types:
Synthetic leather watch strap.
·         What is Simili?
Simili is the common name of current artificial leather, besides, it is called faux leather, pleather, and "Pu" is also a kind of Simili. Simili is a lining cloth, weaved from polyester thread, then is dyed over one or 2 PVC layers so that the cloth and PVC will stick tightly. Next, grain will be embossed on the cloth. Finally, simili surface will be progressed and dyed so that it will be more beautiful and glossy. Although having leather grain on it, Simili is a product of PVC, has smell and ploss of plastic so it is not difficult to distinguish with real leather. Simili is hard, difficult to clean so it is used to made cheap products. Another high-up Simili type and is difficult to distinguish from real leather is Pu leather.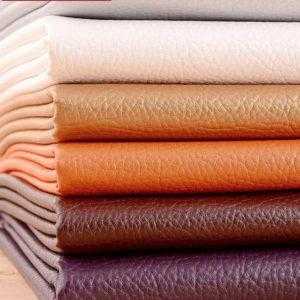 ·         What is PU leather?
Also known as synthetic leather, PU leather is Simili which is coated with Polyurethane (PU). As it has features of PU plastic, PU leather is almost same as real leather, easier to clean and has higher durability compare with common simili. PU leather's quality is quite good so it is used to make purse, handbag, sandal, shoes. Products made of PU leather are easily preserved and cheaper than real leather. However resemble to real leather, PU has far less durability and price compare with real leather. PU leather is flexible so when pulled, you can feel slight stretching, like rubber. PU leather is a good material, easily preserved and has relatively high durability. PU leather is used mostly in fashion field and is replaced real leather. Product made of PU leather is beautiful but its price is just a half compare with those of real leather.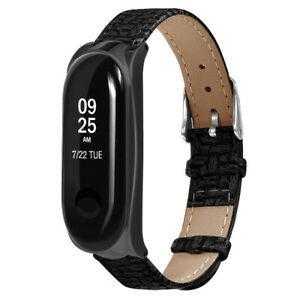 Watch strap made of PU leather
·         Features of synthetic leather watch strap
– Cheap, because most this kind of watch strap is progressed in China
– Lower quality compare with natural leather watch strap, however, it depends much on how it is used.
– Long exposure to water of this kind of watch strap cause sloughing or blistering.
        Watch strap made of natural leather
                Real leather 
Real leather is 100% natural leather. Real leather is also known as tanned leather, is commonly noted real leather, genuine leather, 100% leather.
Tanning is to process leather. It helps leather polished, become more glamorous and prevent it from being rotten. Before that, leather is colored and polished by a paint layer.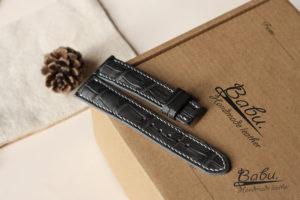 Handmade leather watch strap in Babu is 100% made from genuine leather
    Patent leather 
Patent leather is not fake leather, it is real leather which is progressed and is covered with a layer of plastic, linseed oil.
             Genuine leather
Is not 100% real leather but contains real leather so it is still called genuine leather and not classified to faux leather.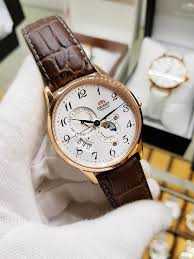 Orient Sun and Moon with genuine leather
           Features of genuine leather
– Soft leather, high durability
– No sloughing, no blistering
– Relatively expensive
Most of medium to low quality watches choose genuine watch strap leather. However, quality of genuine leather is different among brands, quality depends on price level of manufacturers. There is no certain percentage about real leather in genuine leather.
So why genuine leather is quite hard in early days of use, there is almost no humidity? Some Orient watches are even coated so that the hardness is partly increased. However, while being used, leather watch strap will become softer and fit to the wrist, bring about comfort for user.
   Features of leather watch strap during usage period
The leather strap is stretched compared with its original status, this is the typical feature of leather strap. Therefore, in first using days, if the strap is relatively tight, it will fit user's wrist later.
The leather strap has smell during use: if you wear it regularly, sweat and bactery will remain on the strap, moreover, the leather is real so it will unavoidably has smell. But do not worry about it, users can clean it themselves at home.
Leather strap can cause allergy: ralely does this situation happen, except for sensitive skin, it may be caused by the glue which is used to make leather strap. This happens not only to mid-range product, but also high-class one.
  Why qualified leather is not considered durable leather ?
In the article, Babu states that despite closed relevance to each other, do not consider leather strap quality as its durability. When being used, leather strap is influenced a lot by ways it is used, so qualified strap does not mean durable strap.
   So how to have appropriate use of leather strap?
Use anti -crinkle buckle or folded buckle of leather strap. This kind of buckle well assures the durability of the leather strap
When the leather strap is new, you need not to put the strap on both keepers of the watch. By putting on the movable keeper, the strap will first be formed and become softer, after that, we fold so as to put one end of the strap on the keepers, this will avoid crinkling the strap.
Avoid exposuring to water when bathing, washing hand because it will have effect on leather quality.
Some question may arise while using leather watch strap.
     1. Should we fold the strap when it is new?
This is such an interesting question that customer raises to Babu, we also witness customer folding or bending the strap on purpose so as to soften the strap. It is not advisable to do that because it can cause the strap to be broken.
    2. What to do if strap holes are not fit our wrist? Leather strap is too long or too short?
This is such a simple problem, just need a plier specialized in making hole, we will have a strap which is fit our wrist. You are not advised to use a pointed tool to create holes as holes may not large enough for the buckle to go through. Moreover, its aesthetic value will be negatively affected. If necessary, you can go to Babu Shop or whatever shops to get support.
  3. Should we create hole between 2 available ones if the size is not fit our wrist?
You should not create hole between 2 available ones because distance from hole to hole is small. The first reason is that it may damage strap or nearby holes. Secondly, it may spoil appearance of the strap. As I mentioned above, the size should be large in several use days, after that, the strap is loosen and we can use the inside hole to fit to our wrist.
 4. Should we choose leather strap if we frequently work in chemical environment?
It is not advisable to do that. Depending on working environment, we need to have appropriate decision for watch strap.
5.  How to wear leather strap properly so as to prolong its durability?
        To normal buckle:
Notice: In the first days, leather strap need not to go through both keepers, just use the first one so that the strap will be shaped.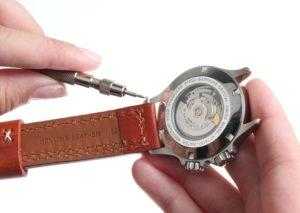 First step: Use your left hand to push leather strap into the buckle.
Second step: Simply move the strap to the second keeper
Third step: When unbinding the strap, do same as the first step, but just pull your strap straight. At this step, user often folds the strap which cause it to have crinkles
Forth step: Leave your watch in the dry and fresh place after removing it from your wrist.
To anti-fold buckle leather watch strap.
Using leather strap becomes easier than ever
First step: Choose suitable strap for your wrist
Second step: Regarding to the buckle needs to fold twice, fold the buckle near the keeper first.
After that, make sure that the other end of the strap is in the keeper, then fold the buckle of the rest end
To the one time buckle, which is same as Sun and Moon version, make sure that entire strap is in the keeper before fold the buckle.