Knowledge on lizard leather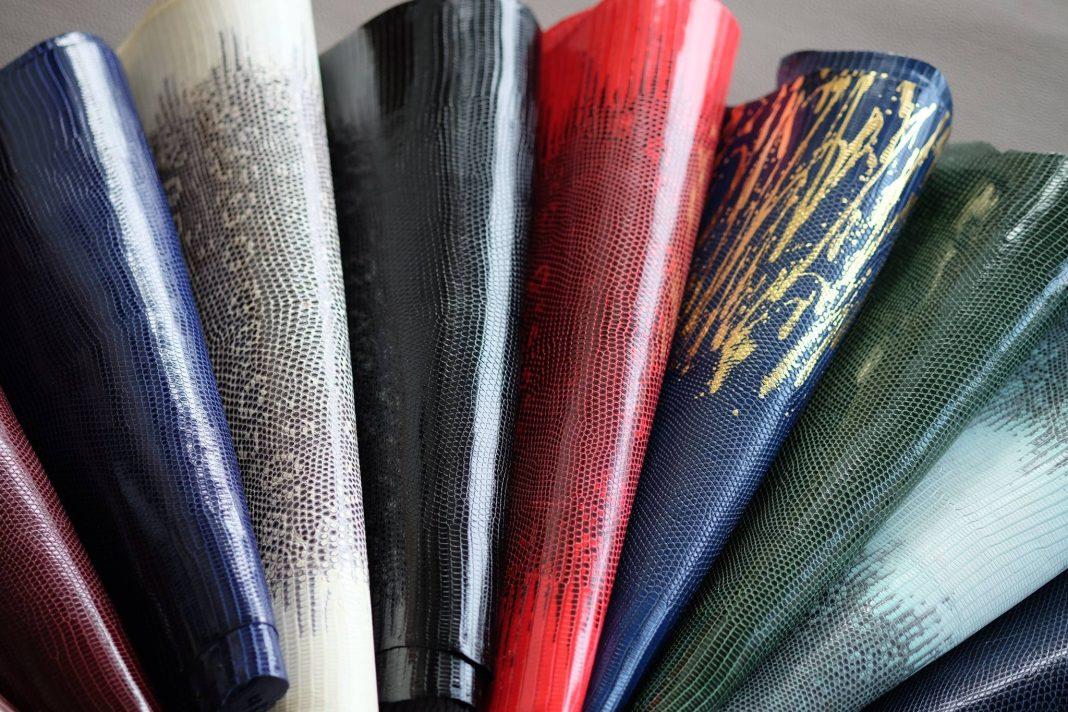 Content:
Origin of lizard leather
Classification of lizard leather
Size and appropriateness
Bleached/ Non – Bleached and Finishes
LIZARD LEATHER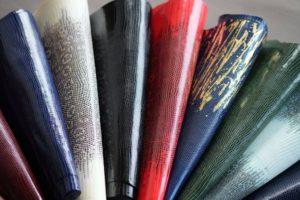 Lizard leather is classified as high class leather as alligator and ostrich leather. It has some following characteristics: beautiful texture, softness, and high durability which makes it popular and favorable leather used to make a wide range of handmade leather goods such as wallets, handbags, watch straps…
What do you know about this type of leather? Why it is special? How to choose lizard leather to suit your products? What determines the price of the leather? In this post, Babu will give you useful information about this type of leather.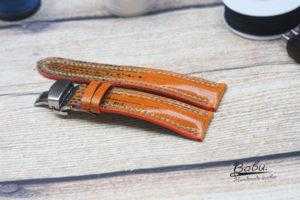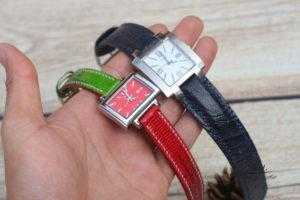 Handmade leather watch strap made from lizard leather
The origin of lizard leather
You must be very familiar with lizard leather from Indonesia, Malaysia and Thailand… And you will ask yourself that why we have to import lizard leather from other Western countries while it is available around here? In fact, raw lizard leather is mostly originated from Indonesia and Malaysia. Indonesia and Malaysia are the two great suppliers of lizard leather in Southeast Asia that can be seen on each certificate of origin of each leather sheet. However, why we have to import lizard leather from a far-away country like Spain? That's because of the leather quality. The tanning technology, tanning chemicals, strict processes and thorough quality control are the most crucial criteria for a perfect leather sheet produced.
Classification
There are hundreds of different lizard leather types, but there are only three most popular ones which are:
Teju lizard leather: originated from South Africa. The scales of the Teju lizard are small and almost square-shaped, with larger rectangular scales along the belly. Like a python, the Teju's skin has irregular color patterns that vary by subspecies.
Nile lizard leather: mainly found in Sudan whose scales are the smallest and most square-shaped of all three. However, its leather sheet size is the largest one. The belly scales on these hides are still larger and more rectangular than the back scales.
Ring lizard leather – Varanus Salvator: Hailing from Indonesia, the ring lizard's skin has a series of small round color patterns in its scales, hence the name. Like the Teju lizard, the ring lizard's scales are small and square-like, with larger, more rectangular, scales along the belly.
Lizards are one of the endangered species that need protecting in the Group 2 of CITES list. Therefore, the import of lizard leather requires a full permit from CITES; otherwise, it will be very difficult to be approved by the customs.
Size and appropriateness
Lizard leather is often sold in sizes from 24cm – 47cm. Nile lizard leather is larger than Ring lizard leather, so it is used to make larger leather items such as handbags, belts… while Ring leather is more suitable for shoes, clutches, wallets, and watch straps. The sizes are a crucial factor determining the price of the leather sheets. The larger, the more expensive. Because the small leather size means small lizards who are less attacked and affected by the environmental factors when compared to the larger ones. Large size is rarer as well, so the price will be a bit higher.
Lizard leather sheets often range from 28cm to 44 cm with different prices. The prices are divided into different levels depending on the size: 25-29; 30-34; 35-39; 40-44, 45+. The thickness of lizard leather is around 0.4 – 0.6 mm, thinner than other leather types, which is ideal for handmade leather goods. In particular, these hides have no calcium content in them making them softer than crocodiles and stingray. This makes lizard hide very easy to work with compared to bonier reptile hides.
The thinner hide and lack of calcium deposits make lizard skin flexible and easy to reshape or cut, meaning less drama with the dremel and other heavy-duty tools to prep the skin for sewing. Another benefit of a low calcium content in lizard scales is that it's very easy to bleach and dye evenly. With lizard hide, if you want a uniform color, you'll get a uniform color.
Bleached/ Non – Bleached and Finishes: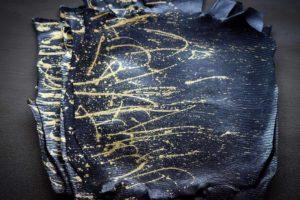 Photo: lizard leather dyed by hand
Lizard leather is divided into two main types which are bleached and non-bleached (Sometimes, there is additional type – semi-bleached). For lizard leather, bleaching is to remove scratches, scars, and dust on the leather surface (or the rings on the back of Ring lizard leather) to create the uniformity on the hides. Non-bleaching means hides will retain their natural wildness. The process of bleaching is complicated, and takes a lot of time and efforts, so it is often more expensive than the other. Lizard leather is also classified into grade 1, 2, 3… like alligator leather. So is the price. Grade 1 leather is a bit expensive than other grades. Finishes type is normally matte – matte and glazed – glossy. However, you can order other types such as nubuck, iridescent, apparel, and the highest quality is to order manually dyed upon request.