What you don't know about watch straps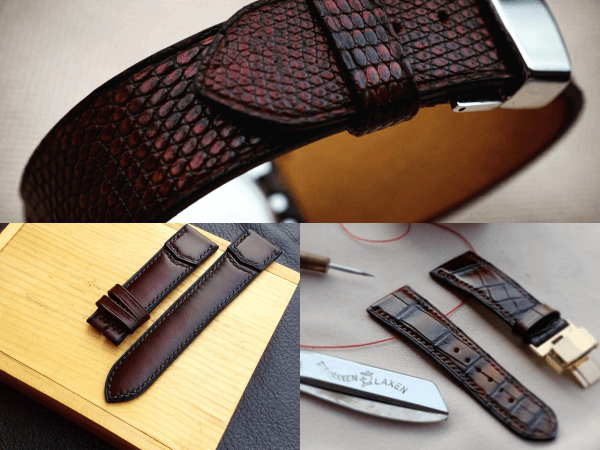 Replacing watch straps is the simplest way to renew your watch.
Watch straps may not really a noticeable matter but actually play an essential role. Wearing suitable watch straps can bring the feeling of comfort, and sometimes, you can renew your watch just by replacing the straps. Just look at the below Omega Speedmaster, you can see how different it is in each set of watch straps.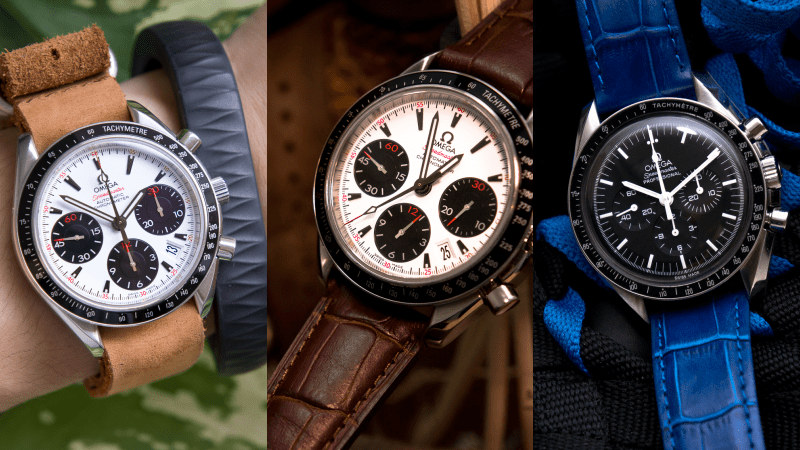 Each different watch band can bring a distinctive style for the Omega Speedmaster.
Main types of watch straps are classified by materials.
Leather watch straps
This is the most popular type. Depended on types of leather as well as method of finish, leather watch straps can be used for both dress and sports watches. As being made of a "living" material, most of leather watch straps are hydrophobic. Thus, when wearing it, you should be careful. Additionally, some types of leather straps are originally polished, so after using for a period of time, you should use cream or polish to preserve them.
Cowhide is the most popular leather for watch bands due to its reasonable price, stable durability, and diverse forms. Cowhide can be stamped with fake alligator texture (often for cheap dress watches), be plain or processed its surface to look cool (crazy horse leather, often used for pit watches and watches for motorbike drivers).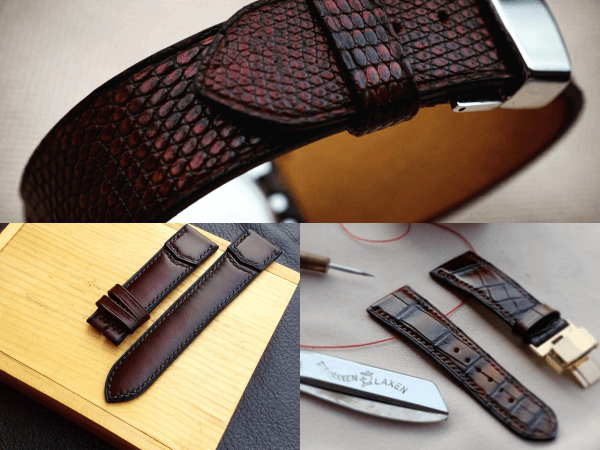 From top to bottom, and left to right, iguana leather, cowhide, and alligator leather.
In addition to cowhide, there are other higher quality leather types such as Shell Cordovan horse butt leather with the fame of durability and natural brightness (NOMOS German watches use this type of horsehide), ostrich leather, iguana leather, alligator leather, and even shark leather. In which, alligator leather is the most common type, usually used for luxurious watches, whereas shark leather is very rare that is suitable for dive watches because its leather texture will uniquely emerge in water.
In Vietnam, many craft workshops make watch straps with all types of materials. You can choose a set of watch straps with the price varying from $20 – $40 to much more luxurious, rare, and meticulously crafted leather ones that cost up to $100.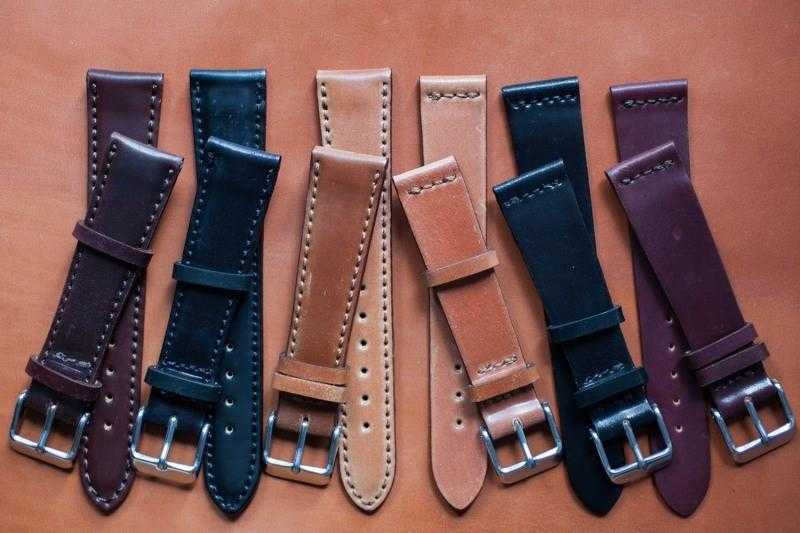 Shell Cordovan horse butt leather straps of the Horween in the USA – experts of this leather type. It costs about 150$ for each horse butt leather strap.
Bracelets
Depending on the price, materials of watch bands can be different from high class materials such as titanium, gold, and platinum to affordable ones like stainless steel and other metals. In which, stainless steel is the most popular one. Based on each type of wristwatch, metals are finished in many different ways for instance of polishing, scratching, and so on. Traditionally, metals are not used for dress watch, but today, not many people care about this rule.
Other materials
NATO watch straps (parachute fabric) have been a hot trend in recent years, especially after James Bonds wears Omega parachute fabric straps in the film Spectre. Parachute straps are quite cheap, durable, water resistant, and have many colors to choose from. You can buy some sets of straps and change based on your hobby or colors of your daily clothes.
However, if you combine a dress watch with parachute straps, choose a neutral, not too bright color. I have a very nice set of NATO orange straps which can only be used when going out, but in more formal circumstances such as workplace, I will use a navy stripe one. In Vietnam, you can easily buy a NATO set in watch shops or order from a Chinese e-commerce website and deliver it to Vietnam via service. The price of NATO straps varies from less than $20 to about $30 for a beautiful and durable one.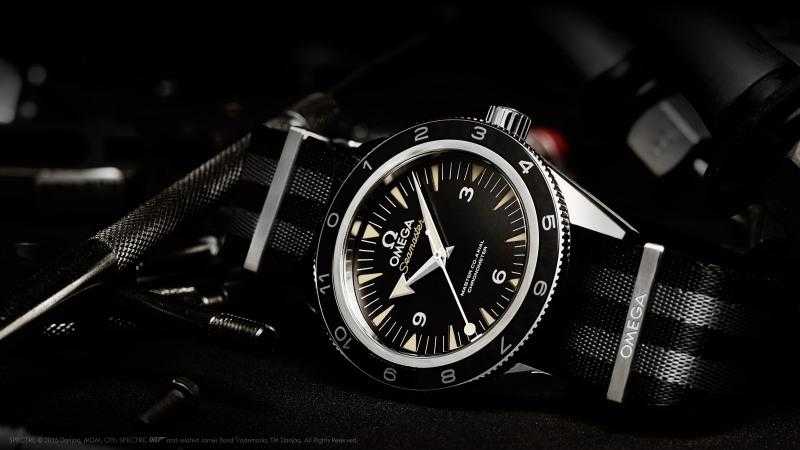 The Seamaster 300 – a special version, with fashionable gray NATO straps, used by James Bond in the Spectre
Rubber straps are commonly used for dive watches because of its water resistance. Furthermore, this type of straps is very durable and quite soft; however, it is not suitable for those perspiring.
When choosing watch straps, you need to take your wristwatch type into account. If your watch is a dive watch which is often used under water, you should not choose a set of leather straps. In case you have a classic dress watch, you'd better not choose a set of NATO straps or rubber ones. Besides, if you want to buy bracelets, but you are allergic to metal, you should try it on before deciding to buy ones.