Which kind of leather is good to make watch strap?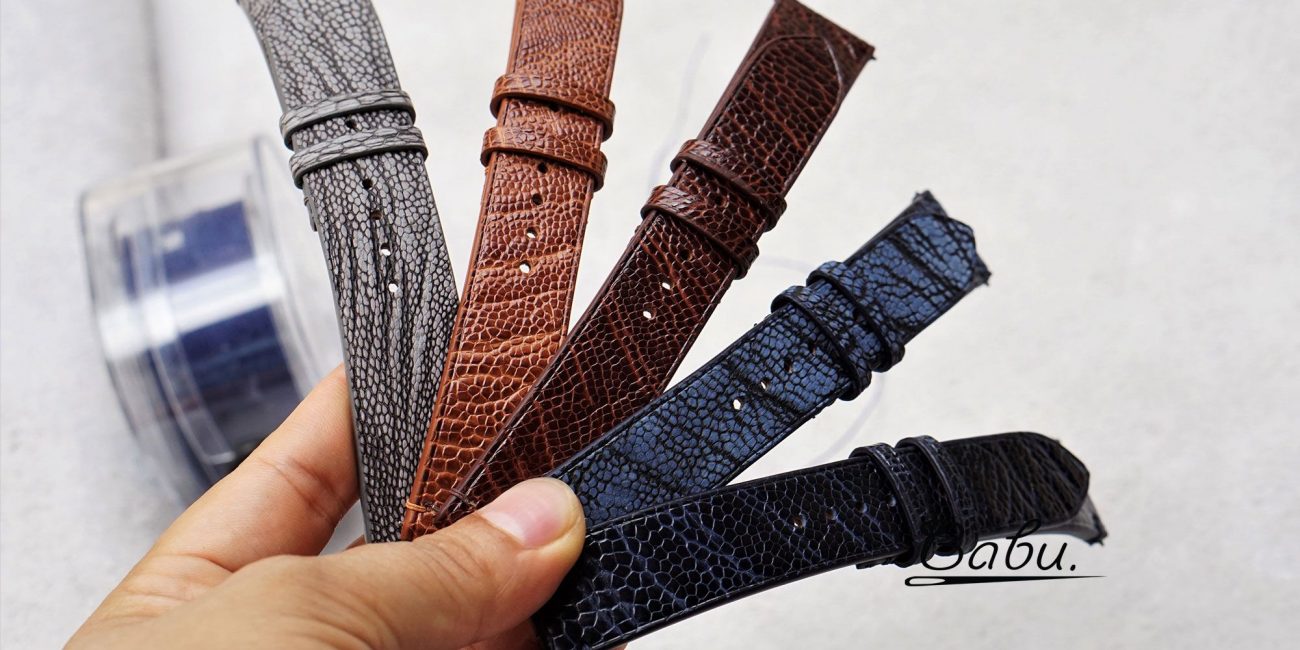 Watch strap is made from genuine leather such as cow leather, alligator or ostrich leather is a beautiful, qualified and obviously the most expensive ones. Simili or PU is more popular strap but its quality is not as good as others.
What is watch strap made from genuine leather?
Genuine leather or tanning animal skin, products made from genuine leather is often noted as real leather or genuine leather, cow hide, 100% leather, so on, is a durable and luxurious material, made from animal skin like cow hide, ostrich, alligator skin, so on. Before putting in to use, these leather is tanned. It protects leathers from being rotten by the time and it polishes leather, bring about an enchant beauty for it. Before completing process, leather is covered with a paint layer to creat gloss and color.
Advantages:

Soft, durable
Water-proof ability, not sloughing
Not irritant or itchy

Disadvantages

Expensive
Environmentally unfriendly due to cruel excoriation. Currently, leather for fashion purpose has limited usages
Watch strap made of cow hide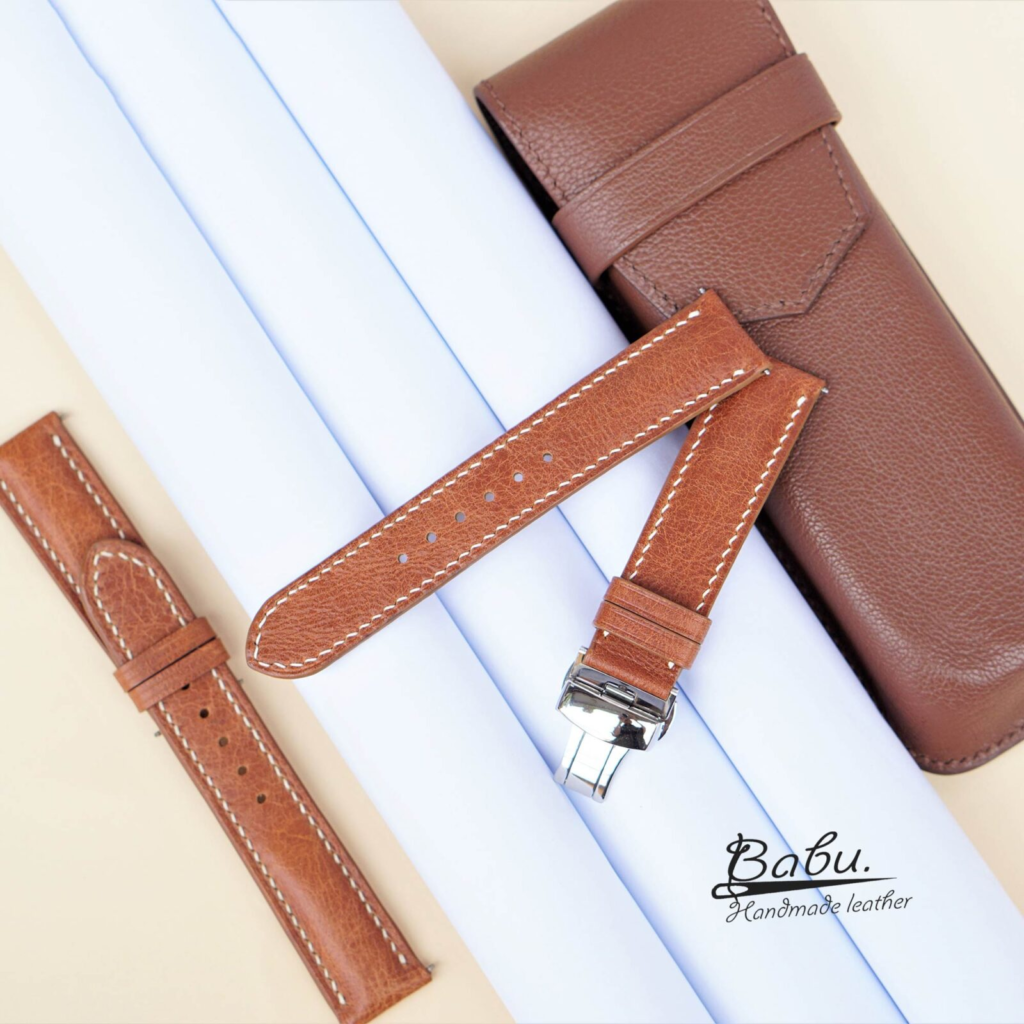 Cow hide is a soft, smooth but expensive material. Poses are round, straight and evenly distributed. It is durable and tough, and have the best abrasion resistance amongst all kind of leathers. Therefore, cow hide is the most popular material used in fashion.
    How to recognize genuine cow hide watch strap?
Good elasticity : After you press on and release the strap, it will return to initial state quickly
Real cow hide will not lose its typical smell so watch strap will have a slight skin smell.
Cow hide strap has humility to soften its skin, you can check this on the back of the strap.
Strap surface is drought, looking closely at the cow hide strap, you will see straight, horizontal, inverted lines in disordered positions.
Alligator hide.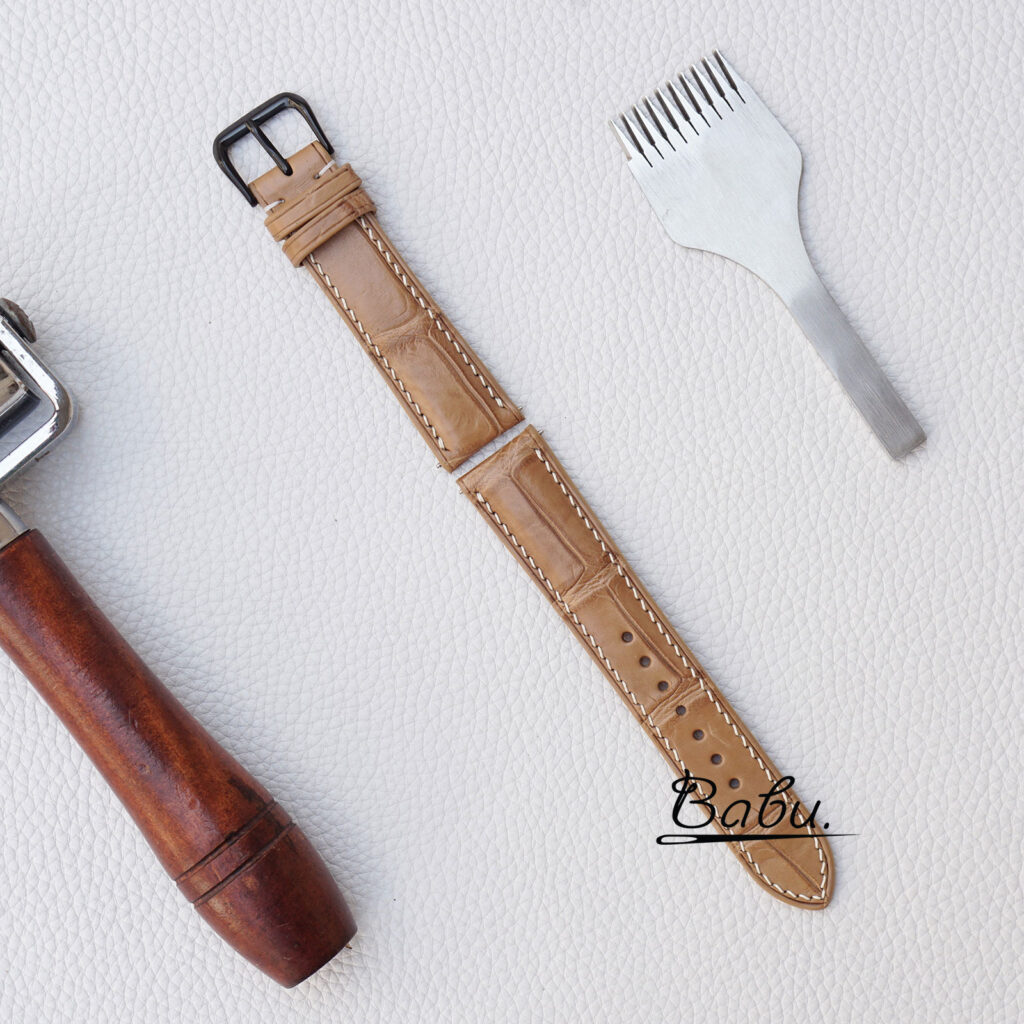 Alligator hide is tough and durable, the more friction it has, the less ability of scratches it is. Alligator hide has a strong layer like a plate of armor, its patterns are various, not duplicated, the material is soft and brings about comfortableness for consumer.
Tips to recognize genuine alligator hide:
Step 1: Wet the alligator hide watch strap: drop a water drop to the surface of leather, if the leather is genuine, water will be absorbed and spread out; if the leather is fake, water drop will roll off the surface of the leather fabric (fake leather is not able to absorb).
Step 2: As alligator skin has good elasticity, when using nails press hard on the leather, on the genuine alligator skin will appear a dent around the finger, however, after leaving, the dent will disappear while on fake leather, the dent will stay longer because it does not have good elasticity.
Ostrich leather
Ostrich skin is one of the toughest skin in the world. Ostrich skin contains natural oil which against dryness, cracking and hardening. Ostrich leather is 5 times as soft and durable as cow hide. Besides, ostrich skin has a high air permeability, no static electricity, good insulation, soft surface skin, possessing a unique, non-overlapping pattern that helps fashion products made from ostrich leather have bright colors. Ostrich skin is divided into 2 types: foot skin and body skin.
How to recognize genuine ostrich leather.
       The ostrich leg leather: The most specific feature of ostrich foot skin is the layered scales structure. The scale is made of hard and shiny horns, which are neatly aligned and run into a straight line that looks very beautiful.  About fake leather, the layer of scales is not arranged in neat layers, the glossiness and rigidity of them are never comparable to genuine leather.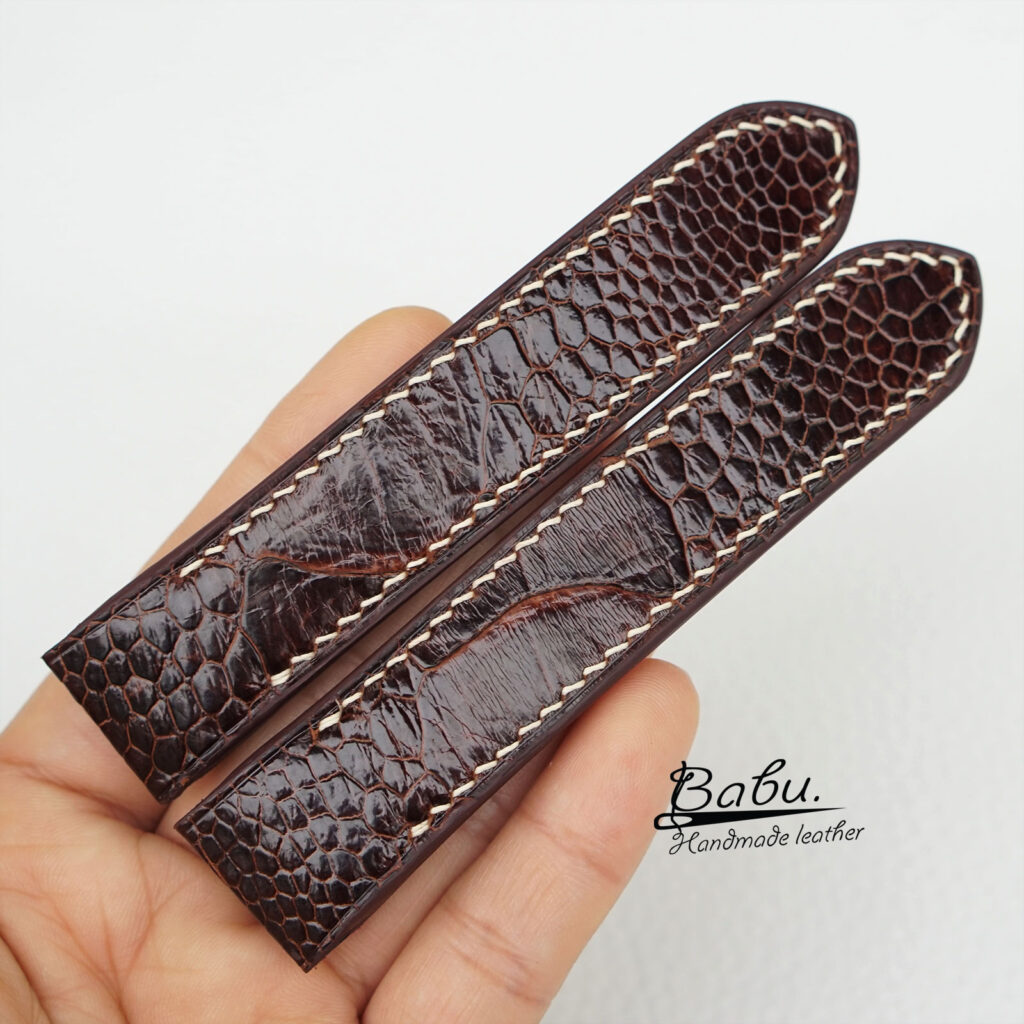 Ostrich body skin: The easiest way to recognize a qualified Ostrich leather watch is that the notes of the hairs are tilted at a 42 degree angle to the surface and are neatly distributed. In addition, during the dyeing process, the notes are a bit darker than the flat skin. When we look at fake ostrich leather strap, it is easy to see that the pores are pressed perpendicular to the surface of the skin and do not appear a hole through the skin, and the skin nodules usually have different colors with normal skin.
How to take care of an ostrich leather watch strap
Simili watch strap
Simili is the comon name of product with fake leather in the market nowadays, besides, there are different names like faux leather, p-leather.
Advantages
Cheap
Various color, easy to change color base on personal desire, less dependence on natural color like genuine leather.
Water-proofing, easy to clean.
Disadvantages
Color is not glamorous, short life expectancy: peeled easily in high temperature or humility environment, exposing to water.
Environmentally unfriendly, skin-irritated easily if it is not produced in a modern and safe environment.
Watch strap made of PU
PU còn có tên gọi là nhựa tổng hợp, da nhựa mềm, da nhựa dẻo… da PU là Simili được phủ lên một lớp nhựa Polyurethane (PU)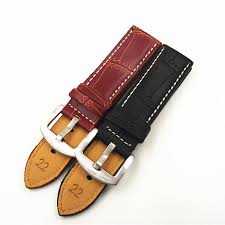 PU is also known as synthetic plastic, soft plastic leather, flexible plastic leather,… PU leather is Simili which is covered with 1 Polyurethane resin (PU)
Advantages
Soft as genuine leather
Easy to clean
Easy to maintain, relatively high durability
Disadvantages
Despite its similarity to real leather, PU leather is flexible. When pulling, it will be slightly stretched like an elastic band but its durability is only half of real leather.
PU leather is blister easily in high temperature environment or humility, or exposing to water for a long time.
How to keep leather watch strap for a long term?
Leather is an organic material, its durability is shorter than metal material because of many external impacts like: environment, sweat and dirt. However, if knowing how to maintain appropriately, we can keep leather watch strap as beautiful and shiny as the new.
Avoid prolonged exposure to sunlight so as to avoid leather from exploring and fading.
So as to prevent leather strap from bad smell, humus, it is advisable not to expose leather strap to water or humid environment.
As leather strap is an organic material, it will be discolored and metamorphosed if exposed to solvents, detergents, fragrances, cosmetics; so we need to limit exposure to above substances!
In general, watch strap made of cow hide, crocodile hide or ostrich hide is much more luxurious and beautiful but these kind has limitation to users: it has to be used appropriately, avoid exposure to chemistry, water, smokes, and it is more expensive than PU or simili strap. However, when processing a watch with genuine and beautiful strap, you look definitely different!